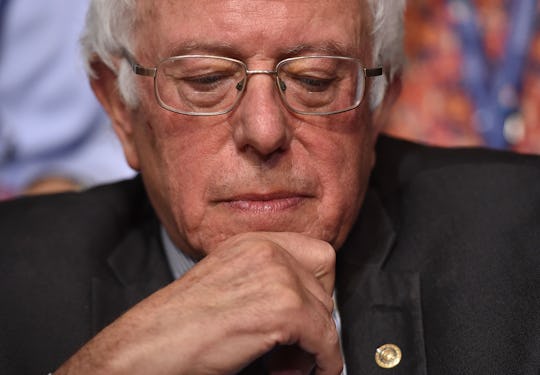 NICHOLAS KAMM/AFP/Getty Images
Bernie Sanders' Reaction To Hillary Clinton's DNC Speech Was Tough To Watch
After a fiercely fought primary season that at times seemed to reach epic proportions, former Secretary of State Hillary Clinton made history as she became the official presidential nominee at the Democratic National Convention on Thursday night. Clinton thanked Vermont Sen. Bernie Sanders in the first few minutes of her speech. Bernie Sander's reaction to Clinton's speech was exactly what you'd expect from the person who came so close after such a hard-fought fight. As her closest rival during the primaries, Sanders's loss to Clinton as the Democratic presidential nominee cemented his status as "always the bridesmaid, never the bride" within the Democratic Party.
Update: In a tweet after the convention, Sanders wrote, "I congratulate Hillary Clinton on this historic achievement. We are stronger together."
On Tuesday, Sanders extended his support for Clinton by calling on the DNC to approve her nomination by acclamation as opposed to by delegate votes on Tuesday. It was a classy, unifying move by the characteristically feisty senator from the Green Mountain State — who took his primary fight all the way to the floor of the DNC this week. But on Thursday, as Clinton thanked Sanders, saying "Your cause is our cause" — Sanders seemed visibly uncomfortable that Clinton shifted attention to him during her historic speech as the first woman presidential nominee by a major political party. Sanders didn't crack a smile and sat there with a look of stoic detachment.
Equally as stoic and silent were Sanders' social media accounts on both Twitter and Facebook as no tweets or posts went out during the evening program on Thursday night, however, Sanders later updated his account with a congratulatory tweet:
That awkward silence was just as palpable in both the Wells Fargo Arena in Philadelphia, Pennsylvania and among viewers online:
Sanders's journey to the DNC was not without its strife, as supporters of the Vermont senator protested outside the DNC venue. Even as Clinton thanked Sanders, particularly spurned Bernie supporters actually booed Clinton as addressed Sanders in the audience:
Many of Sanders' supporters have felt betrayed by Clinton's nomination in the wake of a fraught Democratic primary season. With a massive leak of DNC emails last week that revealed the party's committee clearly favored Clinton over Sanders for the White House — and campaigned accordingly — many Sanders' supporters felt the spurn rather that feeling the Bern.
Speaking before the DNC on Tuesday night, Sanders acknowledged those of his supporters who felt disappointed in their collective loss: "I understand that many people here in this convention hall and around the country are disappointed about the final results of the nominating process. I think it's fair to say that no one is more disappointed than I am." Still, Sanders urged his supporters to continue their very vital, progressive work. In a transcript from The Washington Post, Sanders said:
If you don't believe that this election is important, if you think you can sit it out, take a moment to think about the Supreme Court justices that Donald Trump would nominate and what that would mean to civil liberties, equal rights and the future of our country.
That's what makes Sanders's reaction to Clinton's DNC speech and historic presidential nomination so difficult to watch: He fought like the dickens in a race stacked against him — and when it seemed like Sanders could actually win the nomination, he lost — and his exit from the race feels like such an enormous defeat because it really is. Can you really blame Sanders for the poker face? I don't think so.
Despite his crushing loss, I guarantee you Sanders won't be silent throughout the rest of this campaign, or even a Clinton presidency: Sanders lit the fire for millions of Americans to #FeelTheBern and as the dedicated, lifelong public servant he is — Sanders is committed to spreading that progressive flame across the nation.