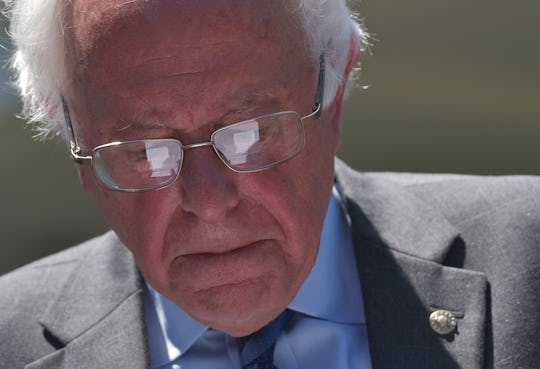 MANDEL NGAN/AFP/Getty Images
Bernie Sanders' Response To Orlando Pulse Shooting Calls For One Action
After a lone gunman killed over 50 people at an Orlando nightclub Sunday morning in the worst mass shooting in U.S. history, many called for change. And not only via 140-character tweets on Twitter. Politicians also rose up in response to the shooting, with Vermont Sen. Bernie Sanders weighing in on the Pulse shooting, condemning the thing that made the tragedy so deadly: assault rifles.
(Update: The FBI has updated the death toll to 49 victims. The shooter was also killed.)
Hours after the shooting took place — wounding over 50 victims, along with the number confirmed dead — the presidential candidate appeared on Meet The Press, and reacted in the way that many of us did upon hearing the news. "It's horrific. It's unthinkable, and just hopes go out to those who were shot that they can recover."
But Sanders didn't stop there. The gunman — who was confirmed by authorities to be 29-year-old Omar Mateen, shot and killed on the scene — was reportedly equipped with an AR-15-type assault rifle, the same gun used at the deadly Sandy Hook shooting in 2012, which led to the deaths of 20 children and six adults. And that's exactly what Sanders took issue with. Continued the candidate:
I've got to tell you for 25 years now, I've believed that we should not be selling automatic weapons which are designed to kill people, and we've got to do everything we can on top of that to make sure that guns do not fall into the hands of people who should not have them. Criminals and people who are mentally ill, so that struggle continues.
It's a hard line to take for Sanders, who has come under criticism for his thoughts on guns in the past. Earlier this year, he faced ire for disagreeing with Sandy Hook victim family member's lawsuit against manufacturer's of guns. A family member, Erica Smegielski, demanded an apology, saying, "He really has had a callous dismissal of our concerns and our fight for justice."
Sanders' team, however, referenced the candidate's D-rating from the NRA as evidence of his support for gun reform. Said a statement from Sanders' camp, "He supports President Obama's efforts to end gun violence. He voted for the legislation considered by the Senate after Sandy Hook. He has a clear and consistent record on the issue."
And Sanders seems to continue to push to maintain that record, at least based on his response to the Orlando shootings. But will that desire to ban automatic weapons turn to action? Based on history, it seems unlikely, but here's hoping more opinions like Sanders' might finally move some sort of needle.