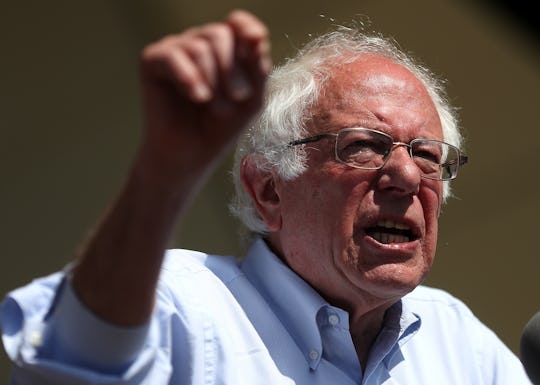 Justin Sullivan/Getty Images News/Getty Images
Bernie Sanders Wins West Virginia, But What Comes Next?
Going into Tuesday's primaries in West Virginia and Nebraska on Tuesday, Vermont Sen. Bernie Sanders and pollsters were feeling optimistic about his chances in at least the Mountain State. But at this point in the primary cycle, it's fair to ask: What happens now that Bernie Sanders has won West Virginia? As polls closed early in the evening, Sanders was ahead of former Secretary of State Hillary Clinton were neck in neck. By late Tuesday night, most outlets were calling the race in Sanders' favor.
But even after winning 14 of the state's 29 delegates, it's still nearly mathematically impossible for Sanders to take any lead ahead of Clinton. On Tuesday, Sanders went into the primary with 1,414 delegates to Clinton's 1,705. While that seems entirely doable, his pledged super delegate count was still very low — he has just 39 to Clinton's 532, according to the Associated Press.
That didn't prevent Sanders from sticking to his optimistic view about what it would take to win the nomination. "We have a chance to end up with a majority of the pledged delegates" he said at an event in California on Tuesday. "And if we do that, I think you are looking at the Democratic nominee for president." Sanders reportedly did admit, according to CNN, that it was going to be an "uphill struggle" either way.
Already, many in the Democratic establishment seem to be calling Sanders' campaign for him, even though he's remained adamant about continuing on until the party's convention in Philadelphia this July. Vice President Joe Biden even went so far as to tell ABC News earlier this week that he feels "confident that Hillary will be the nominee and [...] confident she'll be the next president."
With so many essentially giving up on the progressive senator, it's hard to tell if he might change his mind about dropping out of the race before the next round of primaries. Republican nominees like Texas Sen. Ted Cruz and Florida Sen. Marco Rubio were all about fighting until the end, too, until running the numbers against Trump's delegate account.
Rumor has it that Sanders is already considering a vice presidency, too, if the nominee would have him. Last week, Sanders seemed to tell CNN's Wolf Blitzer that he might be into the idea. He again noted that he plans on not giving up before the convention just in case he can pull ahead. "If that does not happen, we are going to fight as hard as we can on the floor of the Democratic convention to make sure that we have a progressive platform that the American people will support," he said. Cryptically, he then added, "After that, certainly Secretary Clinton and I can talk and see where we go from there."
If anything, Sanders winning West Virginia showed the rest of the Democratic party that he does have more support than Clinton in certain states and could be an asset to her eventual campaign in the general election. If Democrats really are dedicated to beating Republican frontrunner Donald Trump, joining forces would be an interesting option. At least Sanders won't be letting supporters down if he continues to fight in the remaining primaries. But it's hard to tell if these last wins are fostering a false hope or not.