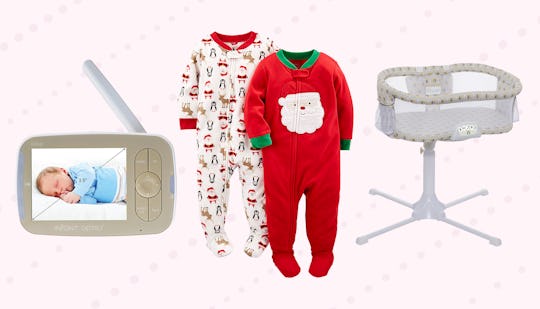 Amazon / Bustle
Here Are The Cyber Monday Deals On Baby Products You Won't Wanna Miss
The most exciting holiday sales are headed our way — and I'm not talking about Black Friday this time. The best Cyber Monday baby deals on Amazon will save you a surprising amount of money and you won't have to leave your home to score them — a super big bonus when you have a baby and it's already a challenge to change out of pajamas on any given day.
(Not an Amazon Prime Member? Sign up for a free 30-day trial to make sure you get the best deals during the biggest shopping weekend of the year!)
You may be in desperate need of a new stroller, crib, or other big ticket baby item. Cyber Monday is the best time to click through sales and see if one fits the bill. You can also take advantage of the day's deals by thinking ahead to items you'll eventually need — one year is a long time in a baby's life and they're going to outgrow those wearable blankets and booties sooner than you think.
If you have friends or family members with little ones, this is also the perfect time to shop for their holiday gifts. You may think you're stumped for ideas, but that will change once you start scrolling through these huge sales.
We will be updating this page as Cyber Monday baby products continue to pop up on Amazon's site.