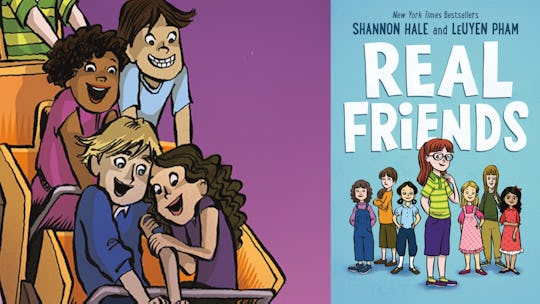 Courtesy of Macmillan Children's Publishing Group
Shannon Hale's Beloved Kids' Graphic Novel About Friendship Is Getting A Sequel — & We Have The Cover Reveal
Many parents feel every jolt of their kids' ride into the bumpy world of friendship — littered with cliques, attacks on their self-esteem, bullying, and anxiety — and want to know how they can prepare them for those experiences. So when the graphic memoir Real Friends came out in 2017, it fast became a hit among middle-schoolers. And now, there is reason to rejoice, because author Shannon Hale (of The Princess In Black fame) and illustrator LeUyen Pham (who illustrated The Princess In Black) are teaming up once again on a sequel to best-seller Real Friends called... Best Friends. Told through the genuine and honest eyes of Shannon Hale's young alter-ego, the new graphic memoir picks up where Real Friends leaves off, with the same heartfelt illustration. And you're hearing about it here first, as Romper shares an exclusive first-look at the cover.
Graphic novels are taking the publishing world by storm. Even reluctant readers will find themselves turning the page. More and more of them are being published and as parents, we are here for it. Beyond being a dynamic storyteller, Shannon is also using her platform to break down gender stereotypes! (I know, I didn't think I could love her any more after reading Real Friends, but she's a real life superhero fighting for our children's right to read whatever book or love whatever characters they want, regardless of gender.)
Author Shannon Hale told Romper she wrote the books in part for her 9-year-old daughter, who "struggled with friendship," like basically every child and adult walking this good green Earth. She knew her daughter loved graphic novels, but the incredible reception that met the book showed that many, many readers loved that storytelling format.
"The response to our book has knocked me off my feet. Immediately young readers were asking me and LeUyen Pham, 'But what happens next?' I couldn't stop thinking about the next — how as I got a little older, the rules of friendship seemed to change, and I was always trying to guess what those rules were and keep up," Hale says.
"I can't wait to share this story with my now-11-year-old daughter and with everyone else too. There's real comfort in reading about other people's highs and lows, to know that they struggled too, we're not alone, and have hope that we'll get through it."
Best Friends will publish August 27, 2019, so you have time to get in on Shannon's story with Real Friends first.
Here's the cover, which pretty much sums up friendship:
If a roller coaster isn't the best way to depict the tumultuous lives of the middle-school set, I don't know what is. In the sequel, Shannon joins The Group after becoming best friends with the ur-girl Jen — but staying in The Group might be difficult, with all the rules she has to follow.
In fact, in preparation for this book, Shannon, Uyen, and their editor Connie Hsu, rode a roller coaster (pictures below!), as Hsu explains here:
While Shannon was finishing the script for Best Friends earlier this year, she suggested that Uyen and I visit her in Utah in June to see her childhood stomping grounds. Although Shannon and Uyen had spent quite a lot of time together on book tours and at events, it was my first time seeing them together in person. Uyen had arrived the day before me, and when they picked me up from the airport, they both said, "Want to do something crazy?" And off we went to Lagoon, the amusement park featured in Best Friends, the scene of much anxiety and heartbreak for little Shannon. We were lucky it was still open, as were many of the rides Shannon rode as a kid, including the roller coaster on the Best Friends cover. Uyen tried funnel cake for the first time, we rode rides (for research), and Shannon shared stories from the many years she and her family went to Lagoon. She now takes her own children. Uyen and I tried to make up for one past trauma; in a key scene, the boys in Little Shannon's group won stuffed animals for every girl... except for her. So we won her a stuffed goat — the game cost us $20, but hey, that's what friends are for.
You'll want to grab Real Friends and Best Friends for your older-elementary-school or middle-school kids. Even if your kids aren't quite at that major-growing-pains phase of things, picking up these books will give every parent a refresher course on the kinds of pressures all kids face as they get older and their social relationships become more and more complex.
These sure look like ~best friends~ to me. Set your watches: August 2019!