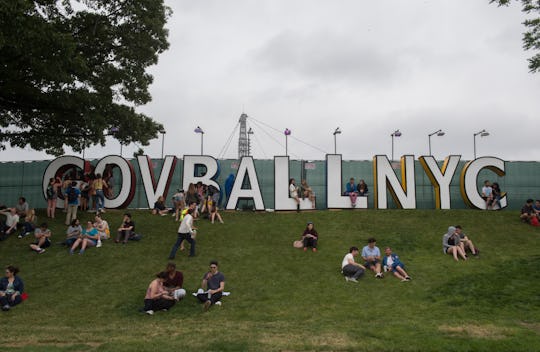 AFP/AFP/Getty Images
Best #GovBall Tweets Show People Are Not Okay With The Festival's Cancellation
Every summer, New York festivalgoers get ready for a steadfast favorite: the Governors Ball at Randall's Island. This year, the lineup was stacked with a number of big-name artists, including Kanye West, Robyn, The Killers, M83, Chet Faker, and many more jealousy-inducing musicians — and the acts were pretty evenly split over the festival's three days. On Sunday morning, however, the last day of the Governors Ball was canceled due to inclement weather, and fans were not happy about it. Some of the best #GovBall tweets out there, though, show that fans were at least taking the news with a touch of humor, despite their disappointment.
Sunday's shows were canceled "due to severe weather and a high likelihood of lightning in the area," according to an update on the Governors Ball website. Understandably, there were safety concerns, and the festival had to monitor weather carefully throughout the weekend. Officials explained:
The safety of fans, artists and crew always comes first. ... Please bear with us. We are just as devastated as you.
Although fans would be receiving refunds for the Sunday portion of the event, they'd be missing shows by Kanye West, Chvrches, Chet Faker, Death Cab for Cutie, and the Cold War Kids. In all fairness, if I had been in New York for the festival, I'd be incredibly bummed out as well, but at least fans managed to turn their pain into some noteworthy memes and tweets.
There Were Some By Kanye West Fans
And There Were Some By.... Not Kanye West Fans
There were more, but they were a little less kind.
There Were Those Who Didn't Mind A Little Rain
Some Made The Best Of A Bad Situation
Unfortunately, rain happens — even when your favorite bands are playing at a summertime festival. Luckily, fans were able to get refunds, and with any luck, some of the artists might take their shows to indoor venues and surprise fans. (Hey, that guy in Bed-Stuy apparently has a sick set-up, Yeezy. I'd take advantage.) At least fans got to see other great bands on Friday and Saturday, including Of Monsters and Men, Jamie xx, Misterwives, M83, HAIM, and many more. Not to mention, there's always next year, when the rain might decide to behave.
I think there's a lesson to be learned here, though, and that is: Kanye West might think he's a god, but if so, he's still got some weather manipulation skills to learn on the job.