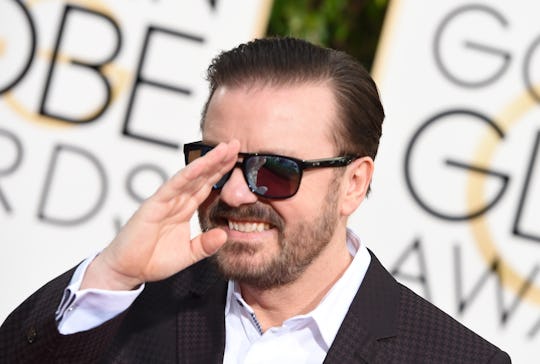 Best Jokes From Ricky Gervais' Golden Globes Monologue Prove He's Back & Feistier Than Ever
After a three-year hiatus from hosting the Golden Globes, Ricky Gervais was back and better (read: more controversial) than ever. Gervais hosted the 2016 Golden Globes on Jan. 10 and, as promised, he delivered his fair share of inappropriate jokes and ruthless celebrity slaps during his monologue.
After the successful three-year run of dynamic comedy duo Tina Fey and Amy Poehler, many wondered whether Gervais would take a tamer approach to his hosting duties or give the typical Gervais type of humor. Naturally, he chose the latter. From targeting Caitlyn Jenner to touching on controversial social issues like Sean Penn snitching on drug Kingpin El Chapo to claiming "he's changed," nothing as off limits for the writer, actor, director, comedian, and show host.
Weeks prior to hosting the award show, which honors television and movies, Gervais took to Twitter and, essentially, promised that he was going to offend everyone because he will be, drunk not, "give a f*ck." He also suggested that his jokes would get him "banned" from U.S. television which, as of this moment, remains to be seen. The night is still young, you guys.
So honestly, we can't say he didn't warn us.
But just in case you missed the first humorous moments of the show, here are some of the best Jokes from Ricky Gervais' monologue. And don't forget, you've been warned.
I want to do this monologue and go into hiding. Not even Sean Penn will find me. Snitch.
To be fair The Martian was a lot funnier than Pixels. But so was Schindler's List.
If you missed the 2016 Golden Globes opening monologue (or want to re-live it, if that's your thing), you can watch it below.
Images: VALERIE MACON/Getty