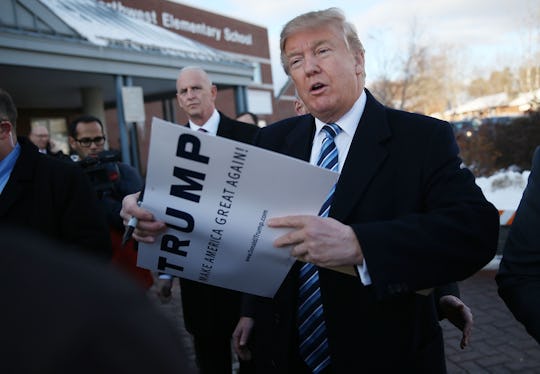 Joe Raedle/Getty Images News
Best Memes From The New Hampshire Primary Show How Dull It Really Was
The polls in New Hampshire opened early Tuesday morning and voters across the state cast the first primary votes of the 2016 election. Early polls showed business mogul Donald Trump leading among the Republicans and Vermont Sen. Bernie Sanders led the Democrats. The voting was relatively low key, except in certain places in New Hampshire, where the live ABC feed said that police had to close the doors on certain polling stations because lines feeding into them were so long. New Hampshire expected a record number of voters this year, and the internet was also aware of the frenzy. The best memes from the New Hampshire primary made fun of the candidates and celebrated their victories.
CNN reported that people leaving the polls were worried about a variety of issues this year. For example, CNN found that Democrats who voted "felt less betrayed" by their party and they also didn't express as much anger with the federal government. But, three-quarters of Democrats leaving the New Hampshire polls said they were worried about the economy. Republicans were more likely to feel that their party betrayed them, and two-thirds told CNN that the recent Republican debates affected their votes.
Former Massachusetts Gov. Mitt Romney reportedly told his close associates that if Trump didn't win New Hampshire, it will mean the end of his campaign because it would be the second early voting event in a row that he lost (even though polls predicted his win). The best memes expressed confusion over Trump's win, celebrated Sanders, and made fun of just how low key the primary was.
New Hampshire (and Twitter) was feeling some kind of burn Tuesday night: they were feeling the Bern from Sanders' win, and they were also feeling some kind of heartburn from Trump's victory. Really, New Hampshire? Really?