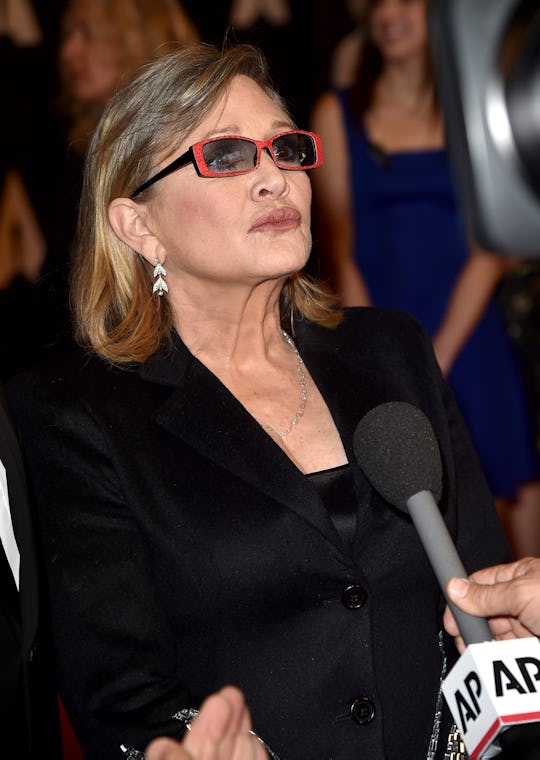 Kevin Winter/Getty Images Entertainment/Getty Images
Best Quotes From Carrie Fisher's Autobiographies
Carrie Fisher, the princess of all princesses, died after complications due to a heart attack on Tuesday. The 60-year-old had been in Europe filming a the next season of Catastrophe, in which she plays a hovering mother-in-law. But even though most fans know her through her screen work, she was also a writer — and these quotes from Carrie Fisher's autobiographies prove that she was the ultimate feminist icon.
Fisher actually wrote a ton of books, so if you feel like you need to get close to her after hearing about her death there are a lot of ways to go about doing that. Her most recent one is The Princess Diarist, which is a recounting of her time on the set of Star Wars (and includes some juicy gossip about her and co-star Harrison Ford, on which even Ford has not yet commented). But Fisher had much more to talk about than the galactic empire.
As the daughter of Hollywood royalty, actress Debbie Reynolds and singer Eddie Fisher were her parents, just her early life is a page turner by default. But her other memoirs, Wishful Drinking, Shockaholic, and Postcards from the Edge also touch on some of the not-so-glam aspects of life — like Fisher's bipolar disorder and struggles with substance abuse.
And Fisher was one authentic woman. She found a way to self-deprecate without belittling herself and had real AF insights about being a woman and making her own way.
On Being Bipolar
One of the things that baffles me (and there are quite a few) is how there can be so much lingering stigma with regards to mental illness, specifically bipolar disorder. In my opinion, living with manic depression takes a tremendous amount of balls. Not unlike a tour of Afghanistan (though the bombs and bullets, in this case, come from the inside). At times, being bipolar can be an all-consuming challenge, requiring a lot of stamina and even more courage, so if you're living with this illness and functioning at all, it's something to be proud of, not ashamed of. They should issue medals along with the steady stream of medication.
— Wishful Drinking
On Loving
I don't hate hardly ever, and when I love, I love for miles and miles. A love so big it should either be outlawed or it should have a capital and its own currency.
— Shockaholic
On Men
There are two things that I know for certain guys are good for: pushing swings and killing insects.
— Postcards From The Edge
On Those Bad Times
I mean, clearly no one would vote for volts until everything else had failed. It's reserved for those languishing in the suicidal ideation lounge, and I had never been truly suicidal. Not that I haven't, on occasion, thought it might be an improvement over the all-too-painful present if I could be deadish for maybe just a teeny little bit of it. You know, like a really good sleep, after which I'd wake refreshed and equal to whatever the problem had been, that problem would have now vanished.
— Shockaholic
On Being Emotional
I rarely cry. I save my feelings up inside me like I have something more specific in mind for them. I am waiting for the exact perfect situation and then BOOM! I'll explode in a light show of feeling and emotion — a piñata stuffed with tender nuances and pent-up passions.
— Postcards From The Edge
On Happiness
Happy is one of the many things I'm likely to be over the course of a day and certainly over the course of a lifetime. But I think if you have the expectation that you're going to be happy throughout your life — more to the point, if you have a need to be comfortable all the time — well, among other things, you have the makings of a classic drug addict or alcoholic.
— Wishful Drinking
On Soulmates
What worries me is, what if this guy is really the one for me and I just haven't had enough therapy yet for me to be comfortable with having found him?
— Postcards From The Edge
On Star Wars
Movies were meant to stay on the screen, flat and large and colorful, gathering you up into their sweep of story, carrying you rollicking along to the end, then releasing you back into your unchanged life. But this movie misbehaved. It leaked out of the theater, poured off the screen, affected a lot of people so deeply that they required endless talismans and artifacts to stay connected to it.
— The Princess Diarist
On Having It All
The thing about having it all is, it should include having the ability to have it all. Maybe there are some people who know how to have it all. They're probably off in a group somewhere, laughing at those of us who have it all but don't know how to.
— Postcards From The Edge
On Perspective
In my opinion, a problem derails your life and an inconvenience is not being able to get a nice seat on the un-derailed train.
- Wishful Drinking
On Having All The Feels
My inner world seems largely to consist of three rotating emotions: embarrassment, rage, and tension. Sometimes I feel excited, but I think that's just positive tension.
— Postcards From The Edge
On Being The Rock
I act like someone in a bomb shelter trying to raise everyone's spirits.
— The Princess Diarist
On Expectation
That's the way it works in movies. Something happens that has an impact on someone's life, and based on that impact, his life shifts course. Well, that's not how it happens in life. Something has an impact on you, and then your life stays the same, and you think, "Well, what about the impact?" You have epiphanies all the time. They just don't have any effect.
— Postcards From The Edge
On Not Giving AF
And when you're young you want to fit in. Hell, I still want to fit in with certain humans, but as you get older you get a little more discriminating.
— Wishful Drinking
Clearly, if these aren't all on your bookshelf right now, you have a new winter reading list. And if sassy memoirs aren't your jam, Fisher also wrote novels.
Carrie Fisher was amazing all around and will be missed by everyone, Star Wars fans and book nerds alike.