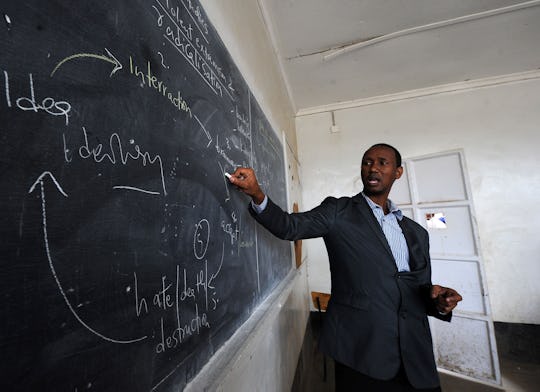 TONY KARUMBA/AFP/Getty Images
Best Teacher Appreciation Week Tweets That Will Give You All The Feels
There simply aren't enough ways to properly thank teachers. Luckily, we have Teacher Appreciation Week each May — and Teacher Appreciation Day on the Tuesday of the first week of May — to remind us to thank the teachers in our lives, whether in-person, though a gift, or, for Millennials, on our social media accounts. A quick browse of various social networking sites, specifically the treasure trove of heartwarming Teacher Appreciation Week tweets currently hanging out on Twitter, will inspire you to thank the teachers in your own life.
First off, let's take a look at the history of the holiday. Teacher Appreciation week has been around since 1953, according to the National Education Association. First Lady Eleanor Roosevelt set aside the day after Mattye Whyte Woodridge, an Arkansa educator, mounted a campaign to pressure Washington politicians to honor teachers. In 1980, the day was further institutionalized by the National Education Association and its affiliates. It was celebrated in March until 1985, when it was moved to May. (Which makes sense, because it's easy to appreciate teachers when summer is right around the corner, no?) Just last week, President Obama declared it a national "holiday" or week of observance, cementing it as an official celebration.
Traditionally, Teacher Appreciation Week is celebrated by sending cards or small gifts expressing gratitude and appreciation. These days, social media offers a new way to show thanks—or, as it turns out, to make a joke or a political statement.
Many Tweeters are keeping it classy by calling out the influence of specific teachers, including nonfiction writer Jon Acuff, who thanked his 3rd grade teacher for inspiring him to be a writer.
Dr. Jill Stein, the Green Party's likely nominee for president in 2016, took the opportunity to criticize our country's obsession with standardized testing:
MoveOn.org shared a quote from the president about the importance of teachers:
For all the sci-fi nerds out there, Doctor Who's Twitter account honored The Doctor, who is also the Teacher:
Author Cara Brookins shared a few warm words and moving memories:
Educators themselves are chiming in as well. This tear-jerker speech from Lily Eskelsen Garcia, president of the National Education Association, reminds us that in addition to standard subjects like reading and math, teachers guide their students through everything ranging from sex education to navigating social complexities, learning how to stay safe, learning how to be a good person, and learning about the political process.
While the Twitter handle for the Oklahoma Public Schools Tweeted this amazing video of a teacher rocking out with his students:
Under the promoted hashtag #WhyITeach, teachers spoke out on why they do what they do, giving everyone even more incentive to show them a little extra love:
In general, Twitter was all over Teacher Appreciation Week this year, and it was undoubtedly for the best. We can only hope that these tweets are making our teachers smile too.