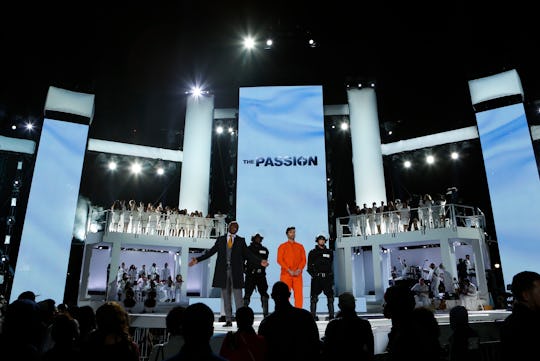 Best Twitter Reactions To 'The Passion' Prove People Are Seriously Invested
Live musicals these days have become increasingly common due to their seeming popularity with several big demographics — and the latest one, like those before, is sure to get people talking in a big way, for better or worse. On Sunday night, following closely on the heels of its last epic broadcast — a live airing of the iconic musical Grease — FOX debuted a new live musical called The Passion, which told the story of Jesus Christ's last days on earth prior to his crucifixion, set in modern-day New Orleans. Unsurprisingly, as the evening progressed, some of the best reactions to The Passion happened on Twitter, where users posted their support, critiques, and otherwise witty commentary on the emotional musical numbers.
"Kudos [to FOX] for having the guts to broadcast The Passion," one fan tweeted early in the evening, commenting on the musical's potentially divisive content. "After seeing promos for The Passion ... my heresy meter is going off the charts," joked another user, commenting on the musical's contemporary setting.
The Passion, which originally aired live from New Orleans on FOX and FOX.com Sunday night, features narration by producer, actor, director Tyler Perry, and showcases the talents of performers like Jencarlos Canela (Jesus Christ), Trisha Yearwood (Mary), singer Seal (Pontius Pilate), Chris Daughtry (Judas), and Prince Royce (Peter). Within minutes of the first musical number, social media was awash with a myriad of varied opinions on topics from Jesus' looks to the curious staging, and everything in between:
So far, it seems Twitter is split pretty evenly between loving The Passion and finding it uncomfortably awkward. If nothing else, perhaps the show's creators can feel confident in the fact that their live musical started up one lively social media conversation.