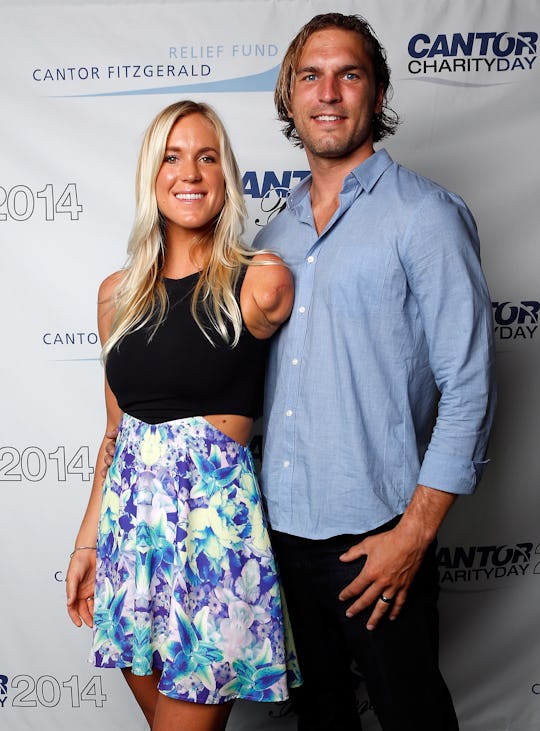 Mike McGregor/Getty Images Entertainment/Getty Images
Bethany Hamilton Shares Touching Pregnancy Photo With Her Son & It Will Melt You
On Friday, pro surfer Bethany Hamilton announced that she's 20 weeks along in her second pregnancy. The 27-year-old surfer and shark attack survivor decided to mark this half-way milestone with the assistance of a special little guy. In an Instagram post, Bethany Hamilton's son helps her with a pregnancy update, and it's just too cute.
Earlier this month, Hamilton revealed she was expecting baby number two with her husband, Adam Dirks. However, it wasn't immediately clear exactly how far along the surfer mama was. An adorable Instagram post cleared that detail up pretty quickly, reports E! Online. Clad in a bikini (because of course,) Hamilton is pictured standing on a beach with her toddler son, Tobias. The soon-to-be big brother is shown touching her bump, and the words "20 weeks" are written in the sand in front of them.
Along with this precious mother-son photo, Hamilton wrote, "20 weeks along and feeling excited everyday! For those who don't know 20 weeks is about halfway along in pregnancy." Hmmm. If we do the math, here, that would put her due date somewhere near the first full week of March — and 20 weeks from Friday is March 9. There we have it, folks: Baby number two is preparing for a March 2018 arrival.
And just look at that glowing mama!
The soon-to-be big brother also played a role in announcing his mama's pregnancy. On Oct. 8, Hamilton shared a short video on Instagram. The clip begins with Dirks asking Tobias from behind the camera, "Where's baby?" Tobias responds in his sweet little toddler voice with,"Right there," while pointing off screen.
"Can you go give baby kissy?" Dirks asks his son, after which the 2-year-old toddles over to his mama and plants a kiss on her tummy. "Another one on the way!" Dirks says on-camera next to his pregnant wife and firstborn. "Baby in there!" Hamilton chimes in, beaming, while Tobias continues showering her bump with kisses.
The couple, who married in 2013, welcomed little Tobias on June 1, 2015, according to People. For this first pregnancy, they also revealed the happy news with a video. "We have a little surprise for you ... Baby on board!" Hamilton announced at the beginning of the YouTube video, while she and Dirks both floated a surf board in the water. "She's pregnant, yes!" Dirks added.
Many wondered how the legendary surfer — who lost her left arm in a horrific shark attack back in 2003 — would adapt to motherhood when news of her first pregnancy broke. The answer? Pretty much the same way she adapted (and kicked some serious butt at, I might add) to surfing with one arm.
"I've been thinking about it, but I often forget that I have one arm," Hamilton said in that same 2015 YouTube pregnancy reveal, according to People. "When I think about it, a squirming baby and changing the diaper … I think how I live life, just adjust and adapt to different things, especially things that are a lot easier with two arms." She continued:
There's going to be things that will be very challenging with one arm, but I'll just have to find my own way to take care of this baby. Of course, I'll have Adam to help, but if he's out and about busy, I'll have to … figure it out and be creative.
Obviously, this active mama has managed just fine. (And seriously, she needs to spill her secrets because I have a difficult time keeping up with my crazy toddler sometimes.) You know what else I just thought of? The halfway point of pregnancy is typically when many expecting couples find out the sex of their developing baby. Perhaps a fun "gender reveal" video or photo is on the horizon? Guess we'll just have to stay tuned to see if Hamilton's son will be helping out with another announcement.