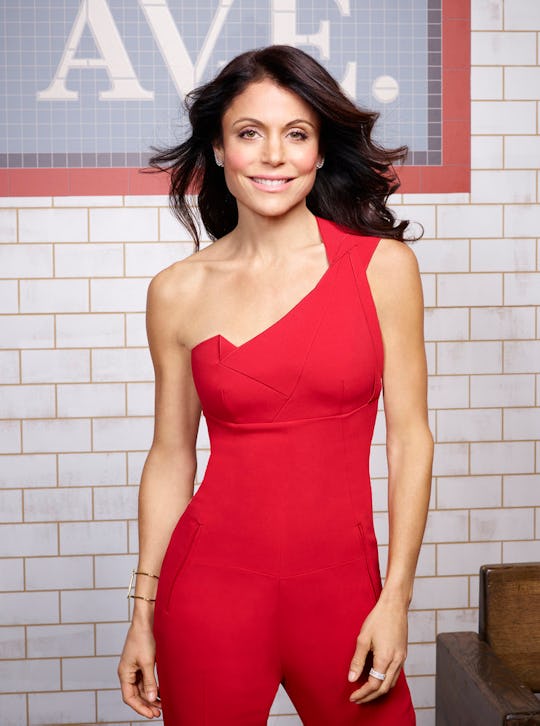 Mathieu Young/Bravo
Bethenny Frankel & John Reconcile On 'Real Housewives' But There's No Way It Will Last
It is not a stretch to say that this season of Real Housewives of New York has been all about Dorinda Medley's boyfriend, John. The dry cleaning guru has rubbed a few of the women the wrong way, which was in very evident during a birthday party on Wednesday's episode. On the Real Housewives of New York, Dorinda's boyfriend John Mahdessian and Bethenny Frankel seem to have reconciled. For now.
For her birthday, Bethenny decided to throw herself a barbecue bash at her house in the Hamptons. As Bethenny herself reminded us, her birthdays don't always go so well. At this one, she didn't cry in the bathroom or get divorced, so she felt free to call it a success. It wasn't, however, the greatest party that ever was. "This is the weirdest birthday party I've ever been to," Ramona said before jetting back to an awaiting suitor whom she had a date with. While Carole spent most of her time desperately avoiding a confrontation with LuAnn, Bethenny was even more determined to avoid John, who was dead set on having a chat.
Bethenny and John were not in the best spot since the day of Dorinda's disastrous lingerie party, which John decided to crash. The purpose of which was to defend Dorinda, or himself, or both. Honestly, I'm not sure what he was trying to do and I don't think he does either. Dorinda decided it was a great idea to bring him along to Bethenny's party because television (I assume), and it went exactly as one would expect it to go. From the moment he walked onto the lawn he began attempting to make eye contact with Bethenny, which she steadfastly avoided, dodging him as a ship would an iceberg. When he eventually did succeed in getting her to talk for five minutes, it didn't take long for the conversation to get nasty. Bethenny accused him of not even knowing what he was apologizing for, and he asked if she wanted to "slice and dice." Extremely unclear as to what that means but it sounded mean.
Finally, seeing how seriously hurt Dorinda seemed by the whole ordeal, Bethenny swallowed her pride and determined to make up with John for her sake. Which is exactly why the whole thing is essentially meaningless. It was only after seeing Dorinda's reaction that Bethenny even began backing off of John at all. She keeps insisting that she just doesn't understand why Dorinda tries to "sell John," but I think we all know that actually means. Bethenny does not like John. She seems like she's trying to deal with him for Dorinda's sake, which is what Dorinda said she wanted at the beginning of the episode, but Bethenny is not good at pretending to like anyone. She often offends even the people she does like. Apology or no apology, the John powder keg is going to go off again. And I have a feeling it's only going to get uglier from here.