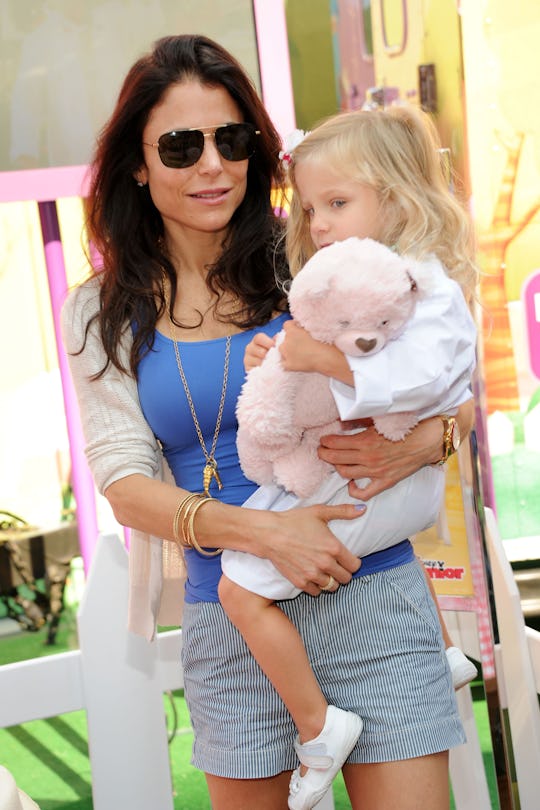 Ben Gabbe/Getty Images Entertainment/Getty Images
Bethenny Frankel Makes An Important Statement About Adoption, Because Many Kids Need Homes
Real Housewives star Bethenny Frankel shared a news story on Twitter earlier this week involving a little girl who was abandoned in a bus terminal in New York City. The heartbreaking story had already made headlines before the reality star tweeted the link, but it was her response that really got people talking: she offered to adopt the child, who had been placed in state custody. In her subsequent tweets, Bethenny Frankel makes an important statement about adoption, and shines light on the difficulty faced by children in foster care to find a permanent home.
On Tuesday, a 5-year-old girl was abandoned by her father in the Port Authority bus terminal, according to NBC New York. The child was spotted, sitting alone in the concourse, by an NYPD officer. The child, who only speaks Spanish, was able to tell police where she lived and lead investigators to her home in Stamford, Connecticut. Upon arriving, it appeared at first that no one was at the residence, but upon further investigation, the body of the child's mother was discovered in an upstairs bedroom. It appeared that she had died after some kind of struggle, possibly a domestic dispute.
Police are not sure if the child witnessed the dispute or her mother's murder, but the child has no injuries and appears to be healthy. Friends of the family informed investigators that the girls' parents had just separated, and they had just moved to Stamford from New Jersey over the weekend. Police are now searching for the girls' father, 32-year-old Elmer Gomez Ruono, who was spotted on Port Authority security footage with the child at about 8:30 a.m. Tuesday morning. They suspect that he may have been involved in the death of the child's mother. Ruono could not be reached for comment.
After reading the story in People, Frankel tweeted a link to the article and added, "How do I adopt this child?," in reference to the 5-year-old. Twitter was collectively dubious about whether Frankel, who has a 4-year-old daughter with ex-husband Jason Hoppy, was actually serious about adopting the girl. Frankel tweeted that she was, and made a valid point about the challenges youth in care face when it comes to finding a permanent home, especially children who are older:
In 2014, there were 415,129 children in foster care in the U.S., according to the Adoption and Foster Care Analysis and Reporting System (AFCARS). 61 percent were over the age of 5, with the majority between the ages of 6 and 10. 107,918 kids were waiting to be adopted, and, according to the Child Welfare Information Gateway, that number has trended down over the last decade, even though the number of children in foster care has started to rise.
There are a lot of factors that determine whether a child can be adopted. One being the formal termination of parental rights, which can take time and means kids often end up spending years in foster care waiting to either be reunited with their family or receive a permanent placement elsewhere. Some kids "age out," meaning they turn 18 before either of those things occur. In 2014, more than 22,000 youth in foster care outgrew the system.
According to her Twitter, Frankel consulted a lawyer regarding adoption and was told it would be "impossible," which seemed to signify an end to her efforts:
What her lawyer may have been referring to is the difference between private adoptions and foster care adoptions, both of which can take months if not years to finalize. For most states, the ultimate goal for kids who enter care is to reunite them with their parents, or find a family member who would be willing to adopt them. It can take a lot of time to suss out whether reunification is possible, or the right choice, and in the meantime the child remains in state custody. When and if a child is found to be eligible for adoption by a non-family member, the process can be very costly and time consuming.
But for many families who decide to adopt, and certainly for the children who are adopted, the decision is a life changing one — and one that's worth the wait.