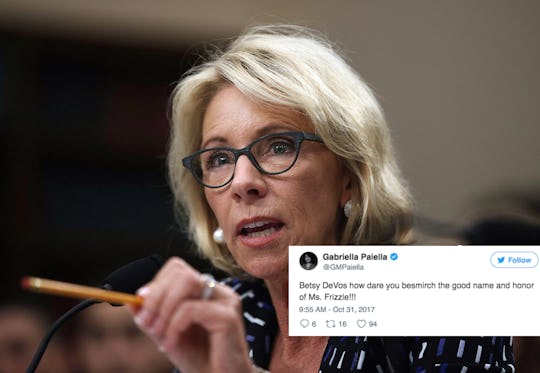 Alex Wong/Getty Images News/Getty Images
Betsy DeVos Dressed Up As Ms. Frizzle For Halloween & People Are Absolutely Livid
Normally, seeing the United States Secretary of Education dress up as Ms. Frizzle would be kind of a funny idea. Except the current secretary — Betsy DeVos — is a rather controversial figure in the Trump administration, and Ms. Frizzle is a beloved cartoon character, so in this case the costume is not going over well. Betsy DeVos dressed up as Ms. Frizzle for Halloween, and people are really not happy about this development.
For the first Halloween of the Trump administration, 6,000 kids and adults were invited for trick-or-treating at the White House on Halloween eve, according to The Washington Post. And it was during that event that DeVos dressed as Ms. Frizzle from The Magic School Bus. The Magic School Bus is a television series from the mid-'90s about a teacher who took her class on educational field trips using a magic school bus. The show was based off of a book series, and has a recent Netflix sequel, The Magic School Bus Rides Again.
DeVos' choice of costume is upsetting to fans of the series and of Ms. Frizzle for many reasons. For one, DeVos has no previous experience working in education at all, according to Cosmopolitan. And her history of pro-school-choice advocacy worries public school advocates. So dressing up as a beloved teacher figure for Halloween is a bit of an odd choice for DeVos.
It sounds like the Halloween eve gathering was a really festive event. Children from more than 20 schools in the area — as well as military families and people from community organizations — attended the festivities on the South Lawn, according to The Washington Post. Spooky music, fog machines, and carved pumpkins done up to look like past presidents set the scene, and having some of the adults in costume probably made the whole thing even more exciting for the kids in attendance.
DeVos wasn't the only cabinet member mingling among the tiny trick-or-treaters, either. Veterans Affairs Secretary David Shulkin attended, wearing a make-believe knife through his head, and Attorney General Jeff Sessions showed up too — without a costume, The Washington Post reported.
But since many fear that DeVos' work as education secretary may harm "traditional public schools," a lot of people aren't pleased that she dressed up as a well-loved teacher for the occasion.
In the past, DeVos and her family have campaigned for a loosening of oversight for charter schools in Michigan, which some critics say could allow such schools to pursue a more creationist, evangelical agenda, according to the BBC.
In fact, DeVos focused on education reform as a way to "advance God's kingdom" at a 2001 gathering of conservative Christian philanthropists, The New York Times reported.
The Magic School Bus, on the other hand, encourages kids to learn about and explore fact-based subjects. There are even lesson plans and online student activities available that tie in with the series, covering topics like biology, chemistry, and astronomy. And many people feel that Ms. Frizzle would probably not appreciate DeVos' approach to education very much.
People on Twitter made it very clear that DeVos' choice for a Halloween costume was not a popular one. Twitter user @silverlining8D even tweeted, "NO SHE DID NOT. Betsy DeVos is not worthy to even watch Ms. Frizzle on TV. 😷 #halloweenfail." Harsh.
It appears DeVos put some effort into the costume, and included a bright orange wig and a skirt covered in planets, according to The Hill. But no amount of attention to detail could derail the anger of Magic School Bus fans reacting to the get-up on the internet.
It's not clear why DeVos chose the costume she did for the Halloween celebration at the White House. But it's not a choice the internet is going to forgive her for anytime soon.
Watch Romper's new video series, Romper's Doula Diaries:
Check out the entire Romper's Doula Diaries series and other videos on Facebook and the Bustle app across Apple TV, Roku, and Amazon Fire TV.