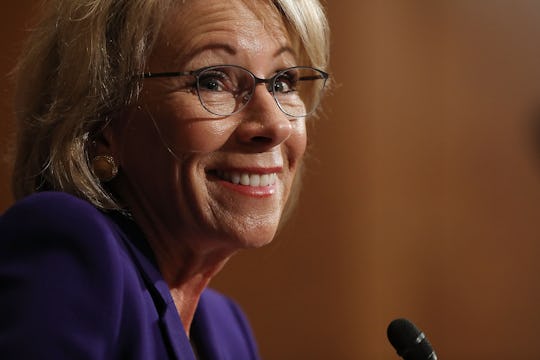 Chip Somodevilla/Getty Images News/Getty Images
Betsy DeVos' Education Track Record Is Not Great
Betsy DeVos is President Donald Trump's nominee to head up the Department of Education. She's the billionaire heiress to the Amway fortune who has spent her considerable resources focused on promoting charter schools as an alternative to public education — an odd background for someone being put in charge of the country's public school system, to be sure. Betsy Devos' education track record shows she has no love for public schools. And it's kids who are paying the price.
DeVos has been a longtime advocate and supporter of education reform in her home state of Michigan. There, she helped push for more charter schools and voucher programs, which allow money allocated to public schools to be used on private and religious schools, according to the Huffington Post.
Throughout her Senate confirmation hearing, DeVos got hung up on basic issues related to public education, including a lack of understanding about federal special-education requirements; the difference between measuring students based on proficiency standards or growth; and perhaps her most stunning position of the hearing — when she argued that schools need guns to protect from "grizzlies," the Washington Post reported.
During the hearing, DeVos also acknowledged she had no experience with the federal student loan program, which the Education Secretary runs, according to the Post.
DeVos outlined her position during her first Senate confirmation hearing like this, according to Politico:
If confirmed, I will be a strong advocate for great public schools. But, if a school is troubled, or unsafe, or not a good fit for a child — perhaps they have a special need that is going unmet — we should support a parent's right to enroll their child in a high quality alternative.
But based on this editorial from the Detroit Free Press' Stephen Henderson, shredding DeVos' "school choice" reforms in his city, America's public schools might be in real trouble. Here's what Henderson wrote about DeVos following her appointment:
DeVos isn't an educator, or an education leader. She's not an expert in pedagogy or curriculum or school governance. In fact, she has no relevant credentials or experience for a job setting standards and guiding dollars for the nation's public schools.
She is, in essence, a lobbyist — someone who has used her extraordinary wealth to influence the conversation about education reform, and to bend that conversation to her ideological convictions despite the dearth of evidence supporting them.
Thanks to the efforts of DeVos, Michigan has steadily expanded charter schools over the past 20 years, and the result has been lower test scores, a public school system drained of resources, and the poorest communities' educational choices "dominated by for-profit operators" without oversight, according to Politico. Michigan students' test scores in reading and math are among the worst in the country, and Michigan's charter schools continue to under-perform compared to public schools, Politico reported.
So that's the country's likely new education secretary.