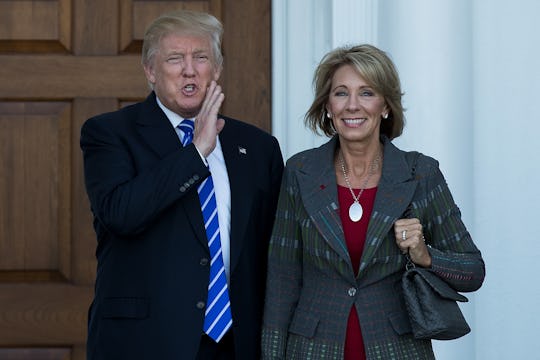 Drew Angerer/Getty Images News/Getty Images
Betsy DeVos Quotes On Common Core Are Enlightening
None of President Donald Trump's cabinet seem as controversial as his pick for the next head of the Department of Education, Betsy DeVos. Critics point to the fact that the billionaire doesn't have experience as an educator, and at her Senate confirmation hearing, she refused to hold private schools to the same standards of accountability public schools. But one of the main criticisms of the education system in America is the Common Core, which has received criticism for focusing too much on test scores. Where DeVos stands on the issue is important to many parents, so here are some of Betsy DeVos' quotes on the Common Core.
To some, there are many problems with the Common Core. Common Core education is very focused on test prep instead of learning, and the fact that these tests have such high stakes that failing one can prevent a student from graduating on-time has raised criticism from parents, educators, and policymakers.
Just 43 percent of Republicans support the Common Core standards, in comparison to 63 percent of Democrats, Brookings Institute reported based on data from a poll from Education Next.
In 2015, Trump spoke out against the Common Core in reference to Jeb Bush's support of the national education standard. "Well, first of all, I think...that education should be local, absolutely," Trump said on The Hugh Hewitt Show. "I think that for people in Washington to be setting curriculum and to be setting all sorts of standards for people living in Iowa and other places is ridiculous."
So it would make sense for Trump's pick to reform the Department of Education would be against the Common Core as well. Right?
Well, DeVos has actually been quiet about her stance on Common Core for quite some time. Some Republican politicians feared that DeVos is for the Common Core because of her ties to organizations that support Common Core. For example, DeVos was part of the board for former Florida Gov. Jeb Bush's Foundation for Excellence in Education, The Washington Post reported. And DeVos never once addressed what she plans to do about the Common Core at her senate confirmation hearing earlier this month.
Then there's the fact that DeVos is a huge advocate for charter schools, which rely heavily on standardized testing as a way to measure their performance in comparison to public schools.
On her website, DeVos clarified her stance on the Common Core, writing that she is not a "supporter" of it.
I do support high standards, strong accountability, and local control. When Governors such as John Engler, Mike Huckabee, and Mike Pence were driving the conversation on voluntary high standards driven by local voices, it all made sense. Have organizations that I have been a part of supported Common Core? Of course. But that's not my position. Sometimes it's not just students who need to do their homework. However, along the way, it got turned into a federalized boondoggle.
DeVos has consistently come out against national standards by saying that it should be up to state governments to determine what the best path for education is.
"I trust parents and I believe in our children," DeVos said at a rally in Michigan last December. "But it won't be Washington, D.C., that unlocks that potential. It won't be a giant bureaucracy or a federal department. Nope, the answer isn't bigger government. The answer is local control, and it's listening to parents, and it's giving more choices."
At the rally, she promised to let states "set their own standards," and to "finally [put] an end to the federalized Common Core."
But for someone who apparently wants to get rid of federal standards, DeVos didn't know much about the subject of standardized testing. DeVos didn't understand the difference between testing for student proficiency and student growth when at asked at her confirmation hearing.
Maybe that's why, to many, DeVos' actions speak louder than her words.