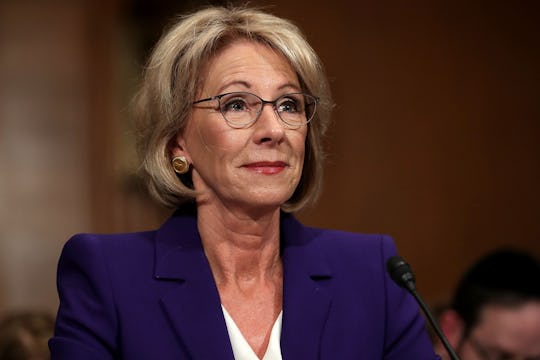 Chip Somodevilla/Getty Images News/Getty Images
Betsy DeVos Won't Stand Up For LGBTQ Students
On Wednesday, Education Secretary Betsy DeVos wouldn't say whether she would block private schools that discriminate against LGBTQ students from receiving federal dollars, according to The Washington Post. By refusing to say whether she would guarantee federal money won't go to schools that discriminate, Betsy Devos remains silent on the rights of LGBTQ students yet again, and it's incredbly frustrating and problematic.
The Washington Post reported that while she was taking questions from members of a House appropriations subcommittee on Wednesday, DeVos explained that she thinks states "should have the flexibility to design voucher programs," and that parents should have the ability to choose schools that align with their children's needs. On the surface, that doesn't sound totally terrible, right?
However, when Massachusetts Rep. Katherine Clark, a Democrat, asked whether DeVos could think of any situation in which the federal government should intervene to keep federal dollars from going to private schools that discriminate against groups of students, DeVos did not directly answer, according to The Washington Post. Several Democratic members in attendance criticized DeVos for her response, and said that she has to be willing to defend students against discrimination by educational institutions that receive federal funds. California Rep. Barbara Lee, a Democrat, said:
To take the federal government's responsibility out of that is just appalling and sad.
DeVos' office sent Romper the following email statement, from Press Secretary Liz Hall:
The line of questioning during yesterday's hearing was about a theoretical voucher program the Department has not proposed and included topics that aren't covered under current Federal law.
There seems to be a fundamental misunderstanding about the federal and state roles in education. When states design programs, and when schools implement them, it is incumbent on them to adhere to Federal law. The Department of Education can and will intervene when Federal law is broken.
The EIR grant program would support states that apply for funding to develop school choice programs, and those states' plans must adhere to Federal law.
DeVos' comments came during a hearing on President Donald Trump's budget proposal, which would give $1 billion in funding to school districts that foster school choice, but also led to "deep cuts" for public schools, according to The Detroit Free Press.
Mic reported that DeVos refused "to unequivocally say the Department of Education would deny federal funding to non-public schools that discriminated against students." When Clark asked her question about discrimination, and DeVos didn't directly respond to it, Clark reportedly said:
This isn't about parents making choices. This is about use of federal dollars. Is there any situation — would you say to Indiana, 'That school cannot discriminate against LGBT students if you want to receive federal dollars,' or would you say the state has flexibility in this situation?
DeVos, in her response, did not address the hypothetical situation in regards to LGBTQ discrimination, and instead said that states "continue to have flexibility in putting together programs," according to Mic.
The Washington Post reported that DeVos objected to the idea that the Education Department would relinquish their responsibility on the issue. "I am not in any way suggesting that students should not be protected," DeVos said, according to the publication.
But this is not the first time DeVos has suggested she might not stand with LGBTQ students when it comes to their rights to an equal and unbiased education. The Huffington Post reported in February that during her confirmation hearing, DeVos "indicated that certain protections are best taken out of the DOE's hands and instead left to the states." Without federal protections, LGBTQ students might not have equal protections in education in all states.
And The Advocate reported in February that members of DeVos's family, including her mother, her late father, and her in-laws, have donated to many anti-LGBTQ organizations and campaigns, but that DeVos doesn't have an "extensive public record" on LGBTQ issues. That's left many to wonder why DeVos has not spoken out on these issues publicly more often herself.
The Daily Beast also reported that The Dick and Betsy DeVos Foundation has mostly focused on school vouchers and school choice, which DeVos does seem to be making a focus of her work as Education Secretary as well. But according to that outlet in February, the foundation has also previously supported the Acton Institute, a hard-right "religious liberty" organization that has taken several anti-LGBTQ stances before. That's concerning to advocates, to say the least.
Mic reported that during her questioning, DeVos "never forcefully condemned potential discrimination that could occur in non-public schools that may receive funding under a school choice initiative," which she is championing. DeVos' lack of conviction when specifically asked about ensuring federal protections for LGBTQ students in all educational settings, public or private, is very disappointing to some, and downright alarming to others.
DeVos needs to guarantee that with the sort of education system she wants to see in place, all students will have equal rights and protections, especially LGBTQ and other marginalized students.