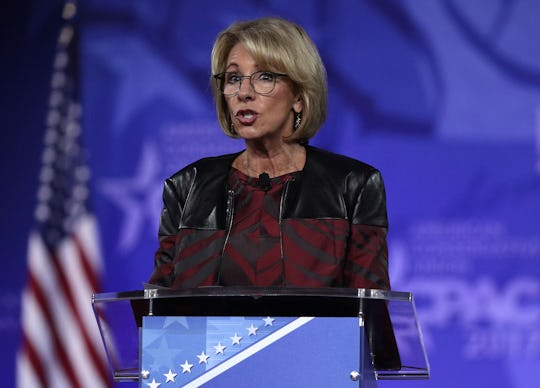 Alex Wong/Getty Images News/Getty Images
Betsy DeVos Just Took A Shot At School Diversity
On Wednesday, President Donald Trump's Education secretary said in a speech that she believes that racial diversity is "a real benefit in schools." But, at about the same time, Betsy DeVos scrapped a diversity grant program that had been established just this past December. Intended to enhance socioeconomic diversity in schools, the $12 million "Opening Doors, Expanding Opportunities" grant had been authorized during fiscal 2016 under former President Barack Obama. That means that allowing it to be implemented would not have required any new spending, according to The Washington Post. But, alas, this is Trump's America now.
And Trump's America means the erasure of marginalized groups, whether that's the elimination of LGBTQ people from the 2020 Census or, in this case, denying school kids the opportunity to experience true, beneficial diversity in their classrooms. "This was the secretary's first opportunity to show her commitment to school diversity, and she failed to come through," Philip Tegeler of the Poverty and Race Research Action Council told The Post.
But, for its part, the Trump administration argued that it opted to ax the program because it was focused on planning rather than implementation. Specifically, the $12 million had been allocated for "preparing to implement innovative, effective, ambitious, comprehensive, and locally driven strategies to increase socioeconomic diversity in schools and [Local Education Agencies] as a means to improve the achievement of students in the lowest-performing schools," according to the Department of Education.
And those would have been worthy goals. According to the progressive, nonpartisan think tank The Century Foundation, racial and socioeconomic diversity in classrooms leads to higher test scores among students, increased likelihood that students will go to college, greater self-confidence and leadership skills, a narrowing of the racial achievement gap, and more benefits. In addressing the Brookings Institution Wednesday, DeVos said that she recognizes the positive outcomes associated with diversity. So much for words.
During the same speech, however, BeVos did make a comment that's much more aligned with her actions. The charter school proponent said that, for parents, choosing a school for their kids should be like choosing between ride sharing services like Lyft and Uber. It was an illustrative but predictable statement from the avid school choice proponent whom many critics believe could destroy public education in this country. Because what this very well could mean, as The Daily Show writer Kashana Cauley pointed out on Twitter, is making it "unaffordable to the poor."
Once again, DeVos' disregard for ensuring a quality education to all of America's children is on full display.