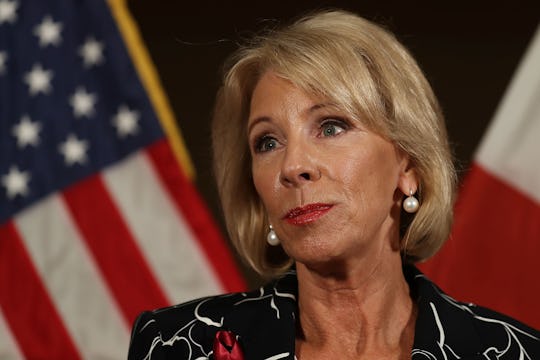 Joe Raedle/Getty Images News/Getty Images
Betsy DeVos' Viral '60 Minutes' Clip Has Twitter Seriously Pissed
Education Secretary Betsy DeVos hasn't exactly had the easiest time proving that she has the knowledge and experience required to do her job effectively. She notably struggled through her confirmation hearing a year ago, and her nomination was ultimately approved only after Vice President Mike Pence cast a tie-breaking vote in her favor. At the time, supporters were willing to give her the benefit of the doubt — she'd naturally learn more in time right? — but Betsy DeVos' viral 60 Minutes clip has left many concerned by how much trouble she still seems to be having answering important questions about the issues facing schools, and how she intends to address them.
In the interview, which aired Sunday, CBS News' Leslie Stahl asked DeVos about a number of pretty fundamental topics, like her take on campus sexual assault (in Sept. 2017, she moved to rescind Obama-era guidance for sexual assault investigations under Title IX, according to The New York Times, which critics argue makes it even more difficult for accusers to come forward). She also asked DeVos for her view on increased gun safety legislation, which also seemed like an important question, now that she'll be chairing a committee focusing on school violence prevention following the Feb. 14 school shooting in Parkland, Florida, according to CNN.
But it's the 2-minute clip of Stahl grilling DeVos on the plan she's long advocated — championing school choice as a way to improve public education — that's making its way around social media. And for someone who vowed during her confirmation hearing to be a "strong advocate for great public schools," the difficulty she seemed to have answering the question was pretty startling.
In the clip, Stahl challenges DeVos' argument for school choice, by pointing out that it essentially takes funding away from public schools in need, instead of providing additional support and resources. DeVos' (somewhat confusing) answer was that the government "should be funding and investing in students, not in school buildings, not in institutions, not in systems," and she then argued,
in places where there is a lot of choice that's been introduced, Florida for example, the studies show that when there's a large number of students that opt to go to a different school or different schools, the traditional public schools actually get better as well.
The only problem with DeVos' argument? It doesn't exactly appear to be true. Stahl responded by asking DeVos if the public schools in DeVos' home state of Michigan have improved as a result of increased school choice (they haven't), to which DeVos said "I can't say overall that they have all gotten better." And when Stahl then asked if DeVos had "seen the really bad schools" to "try to figure out what they're doing," DeVos replied that she had "not intentionally visited schools that are underperforming." Stahl's response? "Maybe you should."
Unsurprisingly, the exchange caused quite a stir on Twitter, where many felt it was further evidence that DeVos isn't fit for the job:
While others thought Stahl deserved major props:
And although some of the resulting memes and tweets were funny, they didn't really make the reality any less horrifying:
Some argued, though, that really, nobody should actually be surprised:
In response the backlash surrounding the interview, DeVos took to her own Twitter account, sharing an infographic that noted on a map the 60 schools she's visited since becoming education secretary (presumably to show that she does at least visit some schools?). She also wrote that she "[loves] great public schools, and that they "will always be a critical part of the mix in American education."
Unfortunately for DeVos though, that didn't exactly seem to quiet her critics:
As far as cringeworthy interviews go, DeVos' 60 Minutes interview was pretty awkward to watch. But of course, the fact that she's in the position to make changes to the public school system that could have a really damaging effect makes the interview so much worse. Criticizing DeVos' performance at her confirmation hearing was one thing, but one year (and one devastating mass school shooting) later? It's pretty concerning that she's still having so much trouble answering the questions that really matter.