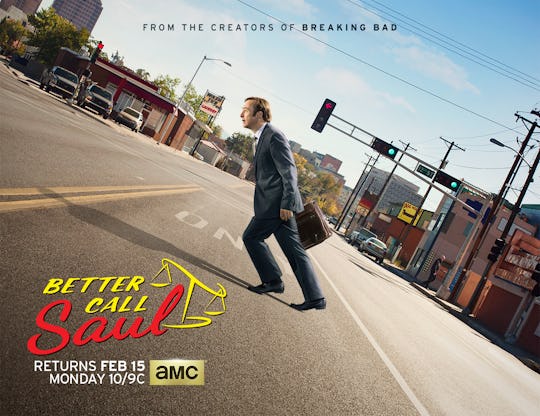 Ben Leuner/AMC
'Better Call Saul' Season 2 Poster Features Plenty Of 'Breaking Bad' Easter Eggs
Normally, there's nothing I dread more than the middle of February, when temperatures are freezing, the landscape is dreary, and restaurants are overbooked and insist on serving off of an overpriced prix fixe menu. But not this year! The second half of The Walking Dead Season 6 will premiere on Feb. 14, and now, we're getting our first look at the poster for Better Call Saul Season 2, which premieres Feb. 15, complete with a couple of Easter eggs for Breaking Bad fans.
The first thing you'll notice is the skewed angle of the shot, like a villain's lair in the old Batman TV show, while Bob Odenkirk remains vertical. Many have noted that the composition may symbolize the "uphill climb" that is the life of Jimmy McGill (aka Saul).
When we last saw Jimmy, he had just learned that his brother Chuck had sabotaged his career as a lawyer. After heading went back to his old stomping grounds in Chicago, he reunited with his former partner in crime, Marco (Mel Rodriguez). Seemingly content with the return to his con-artist life, Jimmy is forced back to reality when Marco dies during a con gone wrong. On his return to Albuquerque, Jimmy ponders morality with former dirty cop (and future cleaner) Mike Ehrmantraut (Jonathan Banks).
We all knew where this was going. Jimmy, torn between his choices of being a lawyer or a con artist, eventually blended the two into a career as Saul Goodman, "criminal lawyer," as Breaking Bad's Jesse Pinkman once referred to him (that is, a lawyer who not only defends criminals, but is himself a criminal). In season two, which is set debut in a few short weeks, it's a safe bet that Mike will probably become Jimmy's right-hand man — the question is, when?
Better Call Saul season one took place 6 years prior to the events of Breaking Bad, but we don't know exactly when Jimmy became Saul. We know that he's well-known in the Albuquerque area by the time Walter White retains his services, so it may not be long before we see his transformation. He's already worked with Mike on one case, he's already had a run-in with Tuco Salamanca, and he's definitely already a criminal, and a lawyer.
The season two poster teases fans with additional Breaking Bad shout-outs: the Wash Tub Laundromat and the Dog House, both of which were meth-slinging locations for Jesse before he partnered up with Walter. Could one of these locations be used in an upcoming episode? Perhaps Saul could run into a fourteen year old Jesse? Doubtful, since Aaron Paul is now 36.
One thing's for sure: Jimmy is slowly inching closer to becoming Saul — and eventually Gene, depressed Omaha Cinnabon employee. In season two, expect to see that change unfold.
Image: Ben Leuner, Ursula Coyote/AMC