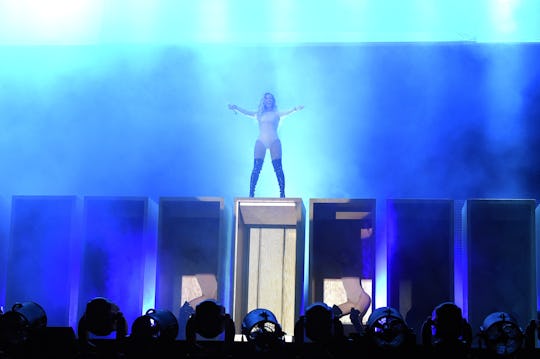 Theo Wargo/Getty Images for Global Citizen
Beyonce Announces Formation World Tour During Super Bowl, Blesses Us All
At the 2016 Super Bowl halftime show Beyoncé saved Coldplay and Bruno Mars from themselves and saved the world from a performance that just felt half whole. Then, when I thought things couldn't get any better, Beyoncé announced the Formation World Tour and thank god, this is the only thing I've ever wanted in my life. During the halftime show Bey sang snippets from her new song "Formation," which she released a day ahead of the performance, along with a totally mesmerizing video. Then, Sunday night, she owned a dance-off with Bruno Mars (unsurprising), and then the cameras cut away to commercial break.
Of course we all thought the Glory was over, but then a black-and-white commercial featuring footage of Beyoncé took over TVs. Low and behold, Beyoncé announced that she'd be going on a world tour. The commercial features Bey twirling around holding a flower, and then these all-important words beautifully appeared: "THE FORMATION WORLD TOUR." Honestly, did we need to go back to the game after this? Like, what was going to top that? (Hint: Nothing.)
The 13-second TV spot included details on when pre-sale and sale tickets would be up for grabs, and you can bet that I'm going to call into work sick that day because I can only do one thing well at a time, and that one thing is going to be sit in front of my computer until my confirmation code comes in.
Here's the commercial:
Naturally, here's how the Beyhive and the Fandom reacted:
Thank you, Beyoncé. For real.