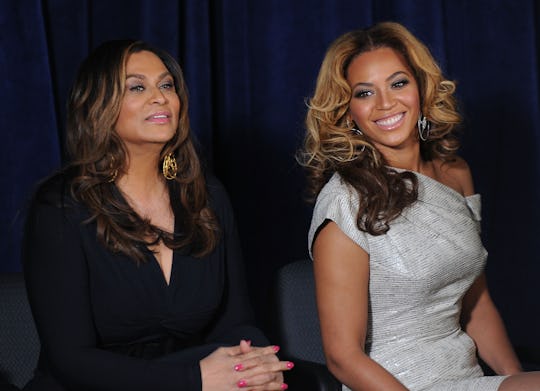 Jason Kempin/Getty Images Entertainment/Getty Images
Beyonce Apparently Wants Her Mom Off Instagram, But The World Would Have To Disagree
Parents were put on this earth to embarrass their children and not even the most famous woman in the world is immune to it. As much as the Bey Hive loves Tina Knowles Lawson, Beyoncé apparently doesn't want her mom on social media. Which is pretty darn hilarious, if you think of it. Like, how can Bey ever be embarrassed?
Well, once you see Miss Tina's terribly corny jokes on Instagram, you might start to see her point. Her jokes are more than cringeworthy — they're downright awful. Then again, in the current social and political climate, a little silly humor is sort of appreciated. Just not by Beyoncé, apparently.
In a recent interview with Entertainment Tonight with her husband Richard, Lawson said that her daughter is never thrilled with her social media posts. The 60-year-old grandmother told the outlet, "If my kids had their way, I wouldn't be on Instagram. I wouldn't be on any social media."
She added, "They hate it." Lawson's husband tried to come to defense during the video, explaining, "From time to time, she will do that foot-in-the-mouth thing. And it will be completely embarrassing...and then you'll get that phone call: 'Mom.'" So the next time your mom tells you to stop dragging her on social media, remind her that even Beyoncé does it to her mom.
Really, though, what's so bad about Mama Knowles Instagram anyway? Let us count the ways:
She's Into The Corny Jokes
Like, Really Into Them
Does JAY-Z Think These Are Good?
She Also Dances, Like All The Time
OK, I guess get why Bey might not love all these posts. But Lawson's jokes aren't half bad. I mean, a "re-tail store?" That's hilarious. Apparently, Lawson also just randomly starts live-streaming videos without even knowing what's going on. So if you get a notification that Lawson (her handle is @mstinalawson if you want to a daily corny joke fix) has started a live video, don't be too surprised if it, well, you know... totally sucks.
Of course, Lawson feels no shame about her Instagram skills. She added in the same Entertainment Tonight interview:
I make mistakes, but I'm just real about it. That's what 60-year-old moms do on social media. So everyone can relate to that, because they're like, "My mom does the same thing."
In March, Lawson said in a video commemorating Corny Joke Day, "You know, Beyoncé was telling me the other day that I shouldn't do corny jokes all the time, but I told her, 'When you get my age, you gotta find your light.'" Touché, Tina.
Here Are Some OG Corny Jokes
Get It?
They're Just Too Good
Can't Stop, Won't Stop
Little Rumi and Sir have no idea what's in store for them. Speaking of the 4-month-old twins, Lawson also told Entertainment Tonight that she was loving her renewed grandma status. "They're doing great. They are absolutely beautiful and so much fun. I mean, I haven't ever been around twins, but it's so cute, I can hardly take it," she added.
"It's crazy ... it's just really, really different with two babies. I mean, a boy and a girl. They have very different personalities," Lawson added. Hopefully, one or both of them will love her jokes as much as she does, because if Lawson keeps it up at this rate, Bey is definitely going to kick her off the 'Gram.
Meanwhile, Blue Ivy is loving the new additions to her family. Richard told Entertainment Tonight that having the babies around is "making her grow up" and that it's "bringing some maturity." He added, "She's only 5, but you can see the transition in terms of her being a little more calm."
Uh oh, she might be almost too old for grandma's corny jokes soon. But do people every really get too old for Instagram jokes? Not in Tina Lawson's world, and she gave us Solange and Beyoncé, so who's to judge?
Watch Romper's new video series, Romper's Doula Diaries:
Check out the entire Romper's Doula Diaries series and other videos on Facebook and the Bustle app across Apple TV, Roku, and Amazon Fire TV.