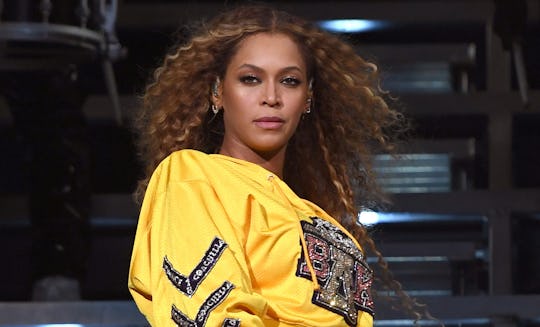 Larry Busacca/Getty Images Entertainment/Getty Images
Beyoncé Celebrates 37 With A Sweet Shout-Out To Her Beloved Beyhive
It is truly a kind and benevolent ruler that bestows favor upon her subjects. Though she's the one who should have been collecting presents, Beyoncé's sweet birthday message to the Beyhive was a generous gift to the fans who made her celebration possible. It's been quite a year for the "Crazy In Love" singer, and it was capped off with a lavish vacation that she graciously shared with fans in the form of ten Instagram photos showcasing Queen Bey and her faithful subject, rapper JAY-Z, drinking wine, admiring the views of Sardinia, and enjoying a ladyfinger-encircled birthday cake featuring marzipan pears (not lemons).
In the caption of the final photo, which shows Beyoncé cutting into a her cake as husband JAY-Z snaps a picture, Beyoncé began her post by reflecting on the events of what was quite possibly her most bonkers year to date:
At 36, I became a new mother of 3. I breastfed twins. I renewed my vows with my husband of ten years. I came back home to the stage to do Coachella, after pregnancy. Then my husband and I released our album together, Everything Is Love. And we've been touring with our family around the world, and loving it.
Wow, when you list all of those accomplishments together, it's actually pretty remarkable that she pulled it off in just one year, especially since pregnancy at her age alone is no easy feat. She continued:
This year has been monumental for me. I thank God for everyone in my life. Thank you for all the positivity and for the beautiful birthday wishes. I'm looking forward to continuing to learn from my past, living in the present, and surrendering to the future. I love you, Hive. B
In addition to giving her fans a shout-out, the post also finally puts an end to the latest bit of fan speculation regarding the notoriously private singer's personal life: that Beyoncé and JAY-Z renewed their vows. Attendees of this summer's "On the Run II" tour spotted some clues in the family videos that were projected onstage during the couple's concerts, according to Harper's Bazaar, but until now, the theory was unconfirmed. Of course, when you consider that their very public cheating scandal was followed by an apology album and a planned pregnancy, it's hardly a shock to learn that the couple has turned over a new leaf.
So what's Beyoncé been up to for her birthday? Well, it sounded pretty boring, to be honest, because she spent it the same way she spent her last nine: bumping around Europe on a yacht. Her Instagram photos, as well as some paparazzi intel, show that she and JAY-Z visited Sardinia, Italy, stopping off for lunch at Hotel Cala di Volpe, according to Elle. The pair reportedly traveled aboard a vessel they've often used before, a $900,000-a-week yacht called the Galactica Star. Yawn. At least she changes up her ports and rentals every now and then, though; on her first annual excursion, according to the Daily Mail, took place in Croatia, and she and her husband rented the considerably smaller six-bedroom yacht Va Bene for a mere $195,000 per a week. The following year, she summered in Cannes and Portofino. She's also taken the Odessa to Venice, sailed the Côte d'Azur and the Mediterranean.
The Queen doesn't seem to be picky about how glamorous her adventures are; she's as comfortable sailing a tiny Vandutch 55 to the Hamptons as she is aboard the Alfa Nero, one of the biggest super yachts in the world. That boat features a gym, a dance room, a massage room, three separate dining areas (each with its own pantry), and in infinity pool that can be converted into either a dance floor or a helipad to suit her needs. I'm glad she enjoyed herself (and thanked those who funded the trip), but next year, maybe switch it up a little, huh?