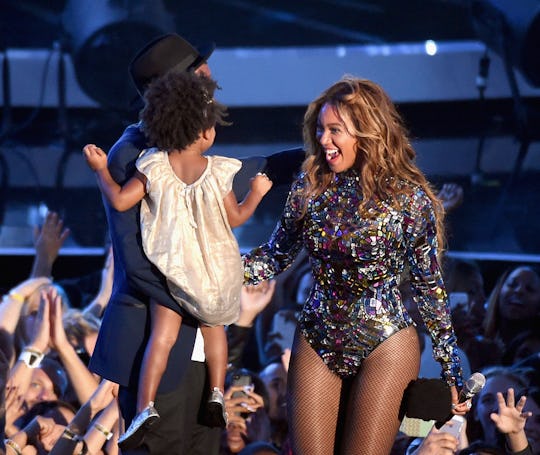 Michael Buckner/Getty Images Entertainment/Getty Images
Beyoncé & Blue Ivy Had The Best Night Out & Yup, We're Jealous
Pretty much everyone enjoys a good girls night out, or in. Whether you're grabbing drinks with friends, staying in to watch a movie, or exploring a new part of your city, girls nights are basically the best kind of pick-me-up. However, celebrity girls nights tend to be on a completely different playing field than those of us mere mortals. A prime example of this? Beyoncé and Blue Ivy's girls night out will make you seriously jealous, even though the video is pretty dang cute. And yes, it involves a Kendrick Lamar concert.
On Sunday, the mother-daughter duo were spotted at Lamar's concert at the Staples Center show in Los Angeles. And fortunately, fans were smart enough to record the pair dancing their hearts out. Two videos were shared to a Beyoncé fan Instagram account on Tuesday, and they serve the mighty purpose of making us regular folk feel like we were right there alongside Queen Bey and Princess Blue; jamming out to "Alright," and forgetting the real world of exploding American politics and the sense of impending doom.
Obviously, we all wish we could party with Bey and Blue, but for those of us without easy access to awesome concerts, these blurry videos will have to suffice.
The videos show Beyoncé, Blue Ivy, and Angie Beyince, Bey's 34-year-old cousin from Texas, all jamming out hard to some of Lamar's best tunes, and basically living their best lives. And as a source previously revealed to Hollywood Life:
Beyonce is amazing, she is clocking hardly any sleep right now, but she's full of energy and life! Most new moms of twins struggle to even function at this stage, but Beyonce is thriving. I mean, obviously it helps that she and JAY-Zhave nannies and a bunch of staff, but she's still really hands-on and she's breastfeeding, which means she's hardly getting a break rest-wise — but then, Beyonce has always functioned best on less sleep than most of us mere mortals!
Seriously, this video of the mother-daughter pair jumping and having fun while Lamar raps "Alright"? Its basically guaranteed to make you happy, and a bit jealous.
Although, seeing as how Queen Bey did just give birth to two little humans this summer, it seems like she definitely deserved at least one night away from home. And if this girls night out is any indication at how awesome of a mother Bey is, then Blue, Sir, and Rumi are literally the luckiest kids in the world.