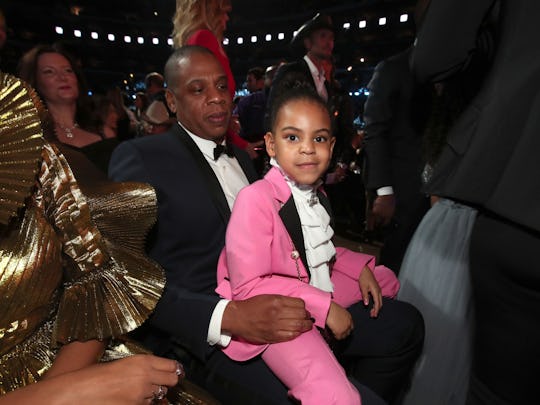 Christopher Polk/Getty Images Entertainment/Getty Images
Beyoncé Brought Blue Ivy To The 2018 Grammys & They Totally Stole The Show
Yeah, yeah it's the Grammys and sure, award ceremonies are important, but it should be clear that what the people really want to see is Beyoncé and her adorable offspring. So when the world saw that Beyonce brought Blue Ivy to the Grammys, Twitter was over the moon. I mean I know that I didn't come here to see who wins Best Album of the Year — I came here to see if Blue Ivy would bring another fun accessory or if Sir and Rumi would be wearing matching bedazzled onesies, or whatever it is our benevolent leaders Beyoncé and JAY-Z would dress their infant children in to go to the biggest red carpet awards ceremony in their industry. Stars — they're just like us! (Except not really.)
At the 2017 Grammys, Beyoncé, who was nominated for nine awards, came with JAY-Z and their daughter Blue Ivy, who immediately stole the show. Dressed in a pink tuxedo to honor Prince who had recently died, and carrying a bejeweled cat-shaped purse, Blue Ivy was the undisputed star of the show. Well, with the exception of her mother. Even if Sir and Rumi, now eight months old, were in attendance, it's unlikely that they'd be capable of doing much more than sleeping and blinking cutely at their parents' famous friends.
At first, it looked like Beyoncé wasn't present at the awards at all, since she wasn't on the red carpet and didn't appear beside JAY during the ceremony. But about midway through she was pictured entering the ballroom, and seen sitting with her adorable daughter and husband in the front row. Someday I wish to have half the wardrobe that Blue Ivy has. She doesn't seem that thrilled in the pictures though. Do I smell a new 2018 meme coming on?
I love that the Carters bring Blue Ivy to the Grammys with them. She gets to see her parents in all their glory on stage and dance around in the front row and show people her cool purse. I hope that in a few years Beyoncé will start bringing the twins and we'll all get to see the first family of music all together. But right now, it makes a lot more sense to leave the babies at home. I mean, they need to be fed all the time, they need to be changed when they need to be changed and not a moment later, they occasionally spit up on clothing (babies don't care if you're wearing couture) and loud music can hurt their little baby ears. So yeah, I would have been surprised if the little twins made their red carpet debut this early in life.
People may have been disappointed not to see the smallest members of the Carter family in attendance, but I feel much better imagining the two of them snuggled safe in their little cribs with an army of nannies and childcare professionals to care for them. And of course, everyone was thrilled to see Blue Ivy again, once again dressed like a Queen-to-be in an all-white ensemble between her parents in chic and somber black. I know it's only been a year, but it looks like Blue has grown up a lot. I guess the Grammys kind of lose their allure after a while.
Blue Ivy may not be ready to put on her own Grammys performance quite yet, but you can't deny that this little lady has star power. Just give it time, everyone. I have a feeling that she'll be killing the game pretty soon... give or take 10 years.
Check out Romper's new video series, Romper's Doula Diaries:
Watch full episodes of Romper's Doula Diaries on Facebook Watch.