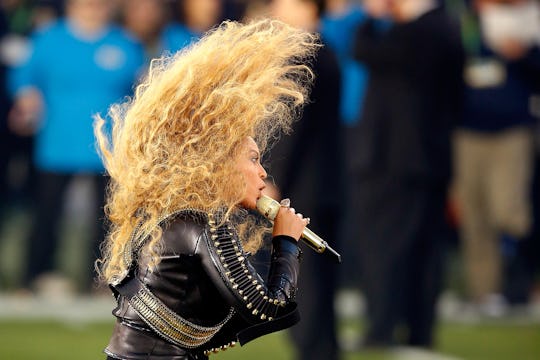 Ezra Shaw/Getty Images Sport/Getty Images
Beyonce Collaboration Rumors That Are Probably True & Bound To Slay
Fire up the wind machine and point it toward the Beyhive, because news on the Beyoncé front is really starting to make fans like me break out into a sweat. Last week, Beyoncé finally revealed fans' summer wardrobe staples with the launch of her new athleisure brand, Ivy Park. Now, we've got a leaked glimpse at the list of collaborations Queen Bey is bringing in on her imminent 6th album and Formation World Tour. And, if this list in in fact legit, Beyoncé is not messing around. Seriously, it looks like this latest round of Beyoncé collaboration rumors is probably true and I am so excited I'm gonna pee my Ivy Park dance pants.
I mean, it's Beyoncé. Is there really an artist on the planet who would turn down a shot at recording with her? No way. It's probably crazy I didn't see this list of everyone's favorites joining Beyoncé on her new Formation album coming months ago.
Let me back up a bit and catch my breath. A few days ago, a document that looks relatively official titled "Release Confirmation" leaked and it appears to give the full track list from Beyoncé's new album, titled Formation and a glimpse at the who's who list of featured artists on the record. Take a look.
According to this list, the album should have been available to Tidal subscribers on April 1, which didn't happen. But since the list hit Twitter, people all over the world have been trying to confirm the list of collabs, with mixed success.
First, there's Jay-Z. Which on anyone else's album would be a big deal, but it's Beyoncé, his partner in the family business, so that's not really a shock. Then, there's Nicki Minaj, who is amazing, but we already saw those two working together on Feeling Myself, which was awesome, but again, not much of a surprise to see them working together again. Then, it gets good. The leaked doc shows Frank Ocean featured on a track called F.R.E.E., which would be very welcome news to more than a few fans.
Especially those fans waiting for either a Frank Ocean or a Beyoncé album to drop on Tidal.
Kanye West makes the leaked list of Beyoncé collaborations on a track the list says is called Rock Till Dawn, and '90s classic songbird Mariah Carey reportedly lends her golden pipes on another song. Damn. West makes sense, since the two have been friends for years. But Mariah Carey? It's hard to think of Carey sharing the stage with anyone, much less someone as fierce as Beyoncé. Just a feeling, but that sounds fishy.
But wait, that's not the best one. Did you see Adele on that list? Queen Bey and Adele together. Yaaas. Adele is listed as a featured artist on a song called Lemonade Taste. I'm not sure what the hell that means or really if the collaboration is true or not, but it sounds fantastic and someone needs to make that happen if this one isn't legit.
But those aren't the only rumors about bold names mixing it up with Beyoncé. Just a couple of weeks ago, presidential candidate and former Secretary of State Hillary Clinton stopped by a Beyoncé video shoot, according Us Weekly. And that sounded super exciting, but then this dedicated journalist had to take the fun out of everything.
Then there's the rumor that Beyoncé has worked with model Cara Delevinge, which was started when both ladies shared images of their hands on what looks like a music sound board.
But this is Beyoncé we're talking about here. She shocked the world with her digital drop! That girl and her team can keep a secret So, until she's ready to let us in, all any of us can do is speculate.
So for now, I'll just have to wait to know the names of the songs that are going to make up my summer soundtrack, while I wear my Ivy Park staples standing in line for the Formation World Tour tickets. It's going to be a Beyoncé kind of summer.