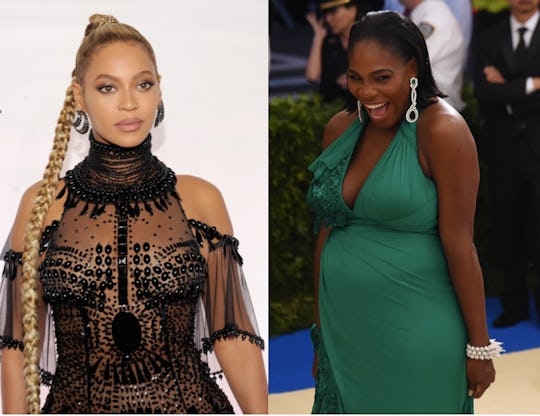 Brad Barket / Stringer / Getty, Nicholas Hunt / Staff / Getty
Beyoncé Shared The Sweetest Message For Serena Williams & Her Baby
A new queen has been born. That is, Serena Williams gave birth to her first child, a daughter who will undoubtably rule the world at some point, on Friday. And that queen has been been blessed by Queen Bey herself. On Instagram on Friday, Beyonce congratulated Serena Williams on her new daughter and immediately had fans obsessed with the support the women were showing each other.
Seriously, her social media shoutout could not be any sweeter. The very private celeb (who typically sticks to posting about her outfits on her Instagram) took to her Instagram account to make one very important announcement — that Williams had given birth.
Beyoncé congratulated her friend through her post just two hours after it was first reported that Williams had given birth to a baby girl at a hospital in West Palm Beach, Florida. Its clear that Beyoncé could not be any more excited for her friend, if only by how quickly she sent her congratulations. And people could not be more excited about Beyoncé's post congratulating Williams. Seriously guys, people can't get enough of their friendship.
"Queen recognizes a queen," one commenter wrote. "Legends supporting legends," another wrote. Lets be real, truer words have never been spoken. If only Beyoncé could have been this quick to announce the birth of her own twins this past summer (just kidding).
Beyoncé and Williams' friendship is one of those rare friendships that you come across ever so often. They've continued to support each other at all times throughout the past decade and only have had good things to say about one another. In a 2004 interview with MTV, Beyoncé attributed Williams' friendship to how her injured hamstring from a dance rehearsal healed so fast (Williams' doctor helped, according to MTV) and the two have been supporting each other (on the sideline of a tennis court or in music videos) ever since. Williams told E! News this time last year how much Beyoncé and her husband, JAY-Z's support meant to the sports star:
It's great to have Beyoncé and JAY-Z supporting. It's always wonderful to see them at tennis and it's always good when you can just rely on someone and know they're always in your corner whether they are there or not and that's kind of how it is with us.
Williams also cited respect as the source for their friendship, telling ESPN:
We really respect each other. She is such an amazing individual on stage and off stage and someone that is inspiring not only to me but to younger girls as well and that is something that I try to do. So I really think that we just connect on that.
This quote highlights the fact that both of them will make amazing mothers to their daughters and inspire them every single day.
Williams even attended Beyoncé's baby shower for twins, Rumi and Sir, while she was pregnant with her own daughter. You can pretty much guarantee that Williams and Beyoncé's kids, born just 3 months apart, will be as close of friends as their mothers. Bring on the playdates.