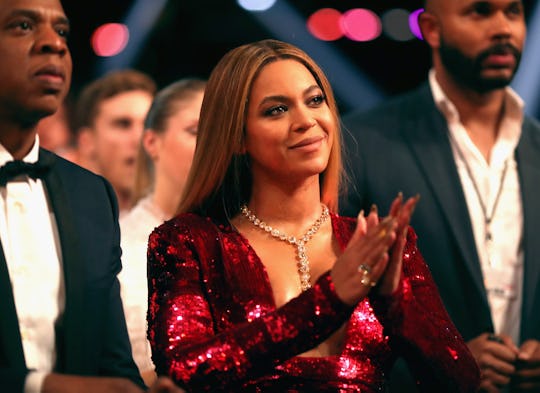 Christopher Polk/Getty Images Entertainment/Getty Images
Beyoncé Fans Think She Hinted At The Twins' Sex
The only thing the internet loves more than Beyoncé is Beyoncé conspiracy theories. The internet has come up with just about every Illuminati/Beyoncé /Jay-Z/Blue Ivy theory there is, and if you thought there couldn't possibly be Beyoncé-related conspiracy theories that don't even require the mystery of the Illuminati, well, thank again. Because Beyoncé fans think she revealed the sex of her twins with this clue on her website.
Any good conspiracy theory requires paying attention to details that otherwise seem irrelevant. The basis for most of the Illuminati-based conspiracy theories was a hand-signal or some other blink-and-you'll-miss-it clue. Beyoncé's fans have demonstrated their keen eye for hints once again, this time focusing on a series of photos she posted to her website on Monday. Clad in a stunning black velvet dress, a $4,900 Gucci bag, incredible thigh-high boots — and a pair of earrings that looked suspiciously familiar to a lot of her fans. The internet immediately lit up once the photos were posted as fans took to Twitter to point out that those earrings could be a clue to the sex of the singer's twins. Those striking hoops were also worn by Bey in her video for "If I Were A Boy."
So, naturally fans are convinced this means Beyoncé is having twin boys. (Beyoncé's publicist did not immediately respond to Romper's request for comment.) If you're thinking this is quite a reach, it's probably worth remembering that Beyoncé doesn't just wake up and slap together a look. The nuance and detail not just of her style, but her music — the pure genius that is Lemonade and her concerts — are all very intentional, right down to the details.
As Teen Vogue pointed out, when she was pregnant with Blue Ivy, Beyoncé arrived at her 20/20 interview with Katie Couric wearing blue leggings — not a hint at the baby's sex, but her name. Considering that the video for "If I Were A Boy" dropped almost 10 years ago — and Beyoncé is hardly an outfit repeater — fans theorize that the earrings could definitely have meaning beyond simply completing her look.
If she did intentionally select an accessory to send a clue to fans and the internet at large, it actually would make sense to choose something that comes in pairs, since she's having twins. Being the woman of intrigue that she is, Beyoncé has of course confirmed nothing, but the internet will be waiting to hunt for clues or hidden meanings in whatever her next appearance is.