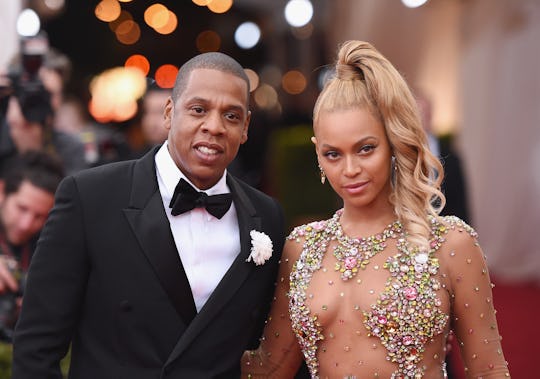 Mike Coppola/Getty Images Entertainment/Getty Images
Beyoncé & JAY-Z Renewed Their Vows With The Twins, & The Kids Are So Grown Up
You might want to sit down for this one, Beyoncé and JAY-Z fans. Just when you thought the power couple couldn't get any more adorable, Tina Lawson took to Instagram on Thursday to confirm that Beyonce and JAY-Z renewed their wedding vows. Making matters even cuter is that *two* special guests were in attendance. Yep, I'm talking about Rumi and Sir, people. Cue the freakin' awws. (Beyoncé's rep did not immediately respond to Romper's request for comment.)
Gosh, where do I even start with this amazing turn of events? First off, Lawson wasn't the one who broke the vow renewal news. As it turns out, Beyoncé and JAY-Z spilled the beans on Wednesday at the first concert of their On The Run II tour. At the end of the concert — which took place in Cardiff, England — a video of the couple's vow renewal played for the thrilled audience, according to ET Online. In the stunning video, 6-year-old Blue Ivy, Lawson, and the twins all don white ensembles for the ceremony, according to PEOPLE. Adding to the beauty of the moment is that Blue Ivy and Rumi both wore flower crowns to the nuptials. Ugh, my heart.
But wait — I'm not done. After the video ended, the phrase "THIS IS REAL LOVE," flashed on screen, according to Vogue. I can't.
Of course, it's fair that some fans might be suspicious of the vow renewal video given the controversy on Wednesday surrounding a photo of the "twins." Essentially, Beyoncé shared a photo of herself holding babies that weren't Rumi and Sir. Talk about a confusing situation.
Rest assured, however, that JAY-Z and Beyoncé likely did renew their vows. Want proof? Look no further than Lawson's Instagram post on Thursday essentially confirming that Beyoncé and JAY-Z put a fresh coat of paint on their 10-year marriage. "My babies ❤️❤️❤️," Lawson captioned the snap, according to Instagram. Aww. I'm happy that Lawson got to be apart of this beautiful moment.
But Lawson isn't the only one who is thrilled about Beyoncé and JAY-Z's vow renewal — fans are psyched too.
"I AM CRYING AND HAVE GOOSEBUMPS OMG," one fan penned about the vow renewal video, according to Twitter.
"OMG!!!! They renewed their vows and no one even knew," another person gushed. "This is the most beautiful clip I have ever seen!!! This makes my heart SO very happy!!! #RealLoveWinsEverytime #OTRII #Blessed #CarterFamily @Beyonce."
Another commenter chimed in: "This is adorable."
Gushing congratulations aside, it's safe to say this vow renewal meant a lot to the couple. It's no secret Beyoncé and JAY-Z's marriage hasn't been without its ups and downs, after all. And I don't think it would be a stretch to say that this ceremony is symbolic of all the hard work the two put into their marriage. JAY-Z said about keeping his marriage to Beyoncé strong, according to E! Online:
That's my soul mate. It's the person I love. If you haven't experienced love or don't understand it or you don't have the tools to move forward then you are going to have complications. Period. You can either address it or you pretend until it blows up at some point. For us, we chose to fight for our love, for our family to give our kids a different outcome—to break that cycle for black men and women.
Not to mention, Beyoncé celebrated their 10-year anniversary in April. It's pretty common for couples to commemorate a decade of partnership with a vow renewal.
Well, all I can say is I'm excited for all of the fans who will get to see Beyoncé and JAY-Z's vow renewal footage in person. It's pretty cool that the couple decided to incorporate their vow renewal into their On The Run II tour, and it's even more amazing that they decided to say "I Do" for the second time.