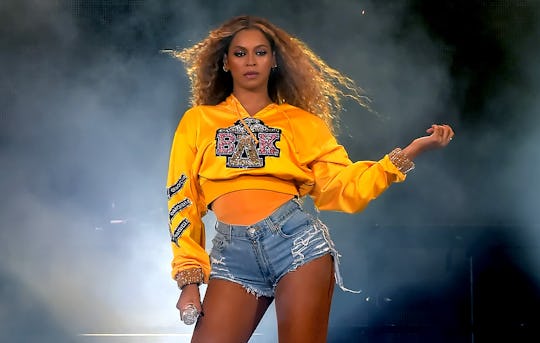 Kevin Winter/Getty Images Entertainment/Getty Images
Beyonce Just Endorsed Beto O'Rourke For Texas, But The Internet Is Divided Over It
As much as some politicians insist that celebrities should keep their noses out of politics altogether, it's incredibly clear that certain stars wield a significant amount of power. Example: Taylor Swift endorsed two Democrats in a recent Instagram post, and also encouraged followers to register to vote. The result? A record number of new voter registrations emerged overnight. Even on Election Day itself, yet another prominent celeb has made a bold political move. That's because Beyoncé just endorsed Beto O'Rourke for Texas — but the internet is pretty divided about it.
As Billboard reported, just a few hours before polls closed in Texas, Queen Bey shared her endorsement for Democratic candidate Beto O'Rourke in Texas. "I'm feeling grateful for everyone before me who fought so hard to give us all the right to have a voice," Beyoncé wrote on Tuesday, Nov. 6, alongside a GIF of herself wearing a "Beto for Senate" cap. "We can't voice our frustrations and complain about what's wrong without voting and exercising our power to make it right. We need you. We all need each other, because when we are truly united we are unstoppable. Sending you all love and positivity on this happy voting day! Every vote counts Every race matters Everywhere."
Although an overwhelming number of Beyoncé fans seemed to support Beyoncé's endorsement, the divide in reactions had more to do with pure excitement versus wondering why she didn't take action sooner. One Instagram follower wrote, "Beyonce for Beto is literally trending on Twitter. She so powerful. Love her."
Another person declared, "Yasss Queen use your platform!!"
While yet another Instagram user shared, "@beyonce just a heads up Queen Beto is live streaming on Facebook and has been talking about you! I'm from Austin so from one Texas girl to another THANK YOU for reppin our state and the man who wants to make positive changes in it!"
Other Beto-supporting followers seemed more annoyed with her timing than anything. One person commented, "I wish you would have used your influence sooner because there's only two hours left to vote in Texas but thank you Still!"
Another Instagram user wrote, "I mean I love that she posted this it's just really unfortunate it wasn't sooner even by a few hours."
Yet another follower chimed in with, "Seriously - too late in the game to make a difference. Where was this two weeks ago?!"
Another Instagram user wrote, "This would of been awesome YESTERDAY. he def would win then."
Another person commented, "I was waiting on this but ummm sis the polls close soon. Would have been nice to see it earlier. Still love you though 💕."
The Democratic candidate himself took to Twitter to acknowledge Beyoncé's endorsement. "Thank you, Beyoncé!," he tweeted, along with a photo of the singer wear her Beto hat.
As you probably already know, O'Rourke is running against Ted Cruz for a Senate seat — and the race is actually a pretty tight one, according to CBS News. Especially considering a Democrat from Texas hasn't been elected to the U.S. Senate in roughly three decades, The Texas Tribune reported. Although it would be considered a huge upset if O'Rourke walked away with the win, a predicted blue wave in the midterm elections could make it extremely close in the end.
So the real question is: Could Beyoncé's last-minute endorsement be the final push O'Rourke needs to get the vote out and actually pull it off? Or did the singer with a massive cult following wait too long to officially back the Democratic candidate? I guess everyone will have to wait and see as the preliminary midterm election results start to pour in.