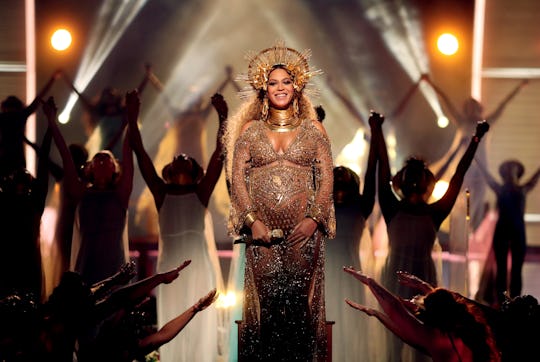 Christopher Polk/Getty Images Entertainment/Getty Images
Beyonce Might Play Nala In The New 'Lion King'
Following the success of The Jungle Book remake, director Jon Favreau is planning to update another Disney classic, and rumor has it that Beyoncé might play Nala in the live-action Lion King reboot. The phrase "Yas, queen" has literally never been more apt than at this very moment. According to Variety, sources said that the singer is Favreau's top choice, but she has not made a decision yet, because she's busy taking care of herself while she's pregnant with two babies, which is hard work. Maybe the entire internet freaking out at once could sway her in the right direction?
The project was initially announced in September 2016, and in February, Favreau tweeted the first two casting announcements: Donald Glover will play Simba (tough break, JTT), and James Earl Jones will reprise his role as Mufasa. Back in early December, visual effects supervisor Robert Legato told CinemaBlend that the seamless production of The Jungle Book's Mowgli-free scenes stood as proof that The Lion King live-action remake was possible. But is it really live action if there are no living humans or animals in the movie? According to me and at least three other furiously pedantic writers out there, no! It is still a cartoon! But setting that glaringly incorrect term aside, let's focus on Beyoncé.
The Grammy-winner did recently drop out of Coachella due to her pregnancy, but a voice acting role would be a lot less stressful than a music festival. She could even record her lines at home, if she wanted to. Variety's sources claim that "the studio and director will do whatever it takes to accommodate her schedule." Disney certainly has the cash to build Beyoncé a home recording studio, and it sure would make work-life balance easier for her and her rapper husband. So what do the fans think?
See that, Disney execs? Casting Beyoncé would guarantee way more fans. Rabid fans. Fans that would follow her anywhere. The Beyhive is a passionate bunch, and would likely contribute enough revenue to outstrip both the 1994 Lion King's $968.5 million gross and The Jungle Book's $966 million. We're talking Avatar money now.
Taking on the Nala role would also benefit Beyoncé, since her fans are constantly starving for more from her. Lemonade is nearly a year old, she's not performing any concerts anytime soon, she doesn't tweet, and she rarely gives interviews. Sure, she's on Instagram, but posting requires wardrobe, hair, and makeup, and who wants to go through all that trouble in the third trimester? A voice role would be a nearly effortless way to give the fans what they want while staying in the public eye. Well, the public ear, technically. This is a win-win-win. Somebody make it happen.