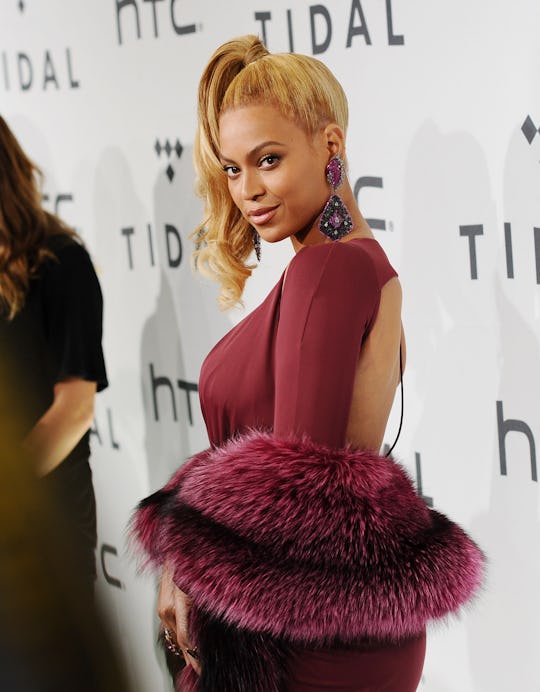 Beyoncé Needs To Perform At The 2016 Super Bowl, & Here Are 7 Reasons Why
Coldplay is slated to play the halftime show at the 2016 Superbowl, which will take place on Feb. 7 in Levi's Stadium in Santa Clara, Ca. And, according to The Wall Street Journal, his pal Beyoncé may perform in the 2016 Superbowl halftime show as well, which would give America one more amazing reason to tune in to the game. Hey, I'm a fan of watching men in tights (no really, I am), but I'm super stoked to watch one woman, Queen Bey, to be exact, in tights. Because Beyoncé.
This will mark Coldplay's debut Superbowl halftime show performance. The announcement came just before the release of the band's seventh album, "A Head Full of Dreams," out Dec. 4. The gig usually works out well for the superstars who grace the Superbowl stage; Katy Perry, who played last year's show went on to earn $135 million in 2015, making her the year's highest paid woman in showbiz.
Beyoncé clearly doesn't need more visibility (or more cash), but wouldn't she want to do it for the fans??? Surely there's something you could promise her, Superbowl organizers. What can we do to seal the Beyoncé Superbowl deal? Beg?
Here are 7 really good reasons we need Beyoncé to give America a mic drop at the Superbowl halftime show.
The "Drunk In Love" Windmill Jiggle
If Beyoncé doesn't perform, we won't have the occasion to do this jiggle in our living rooms. Halftime show in the house!
The "Single Ladies" Talk To The Hand
When someone at the Superbowl party accuses you of double-dipping, you can let Bey's hand do the talking for you.
The Signature Bey Hair Flip
A football game is just a football game. This move, on the other hand, is theater.
The Teachable Moment
The Superbowl is the perfect opportunity to give literally millions of men a short introduction to feminism, Beyoncé style. Let's not waste this chance.
The "7/11" Body Shimmy
I can watch this all night long, and still not master it, but I'm willing to spend my halftime show trying.
Impressive Chair Work Skills
Save musical chairs for the birthday parties. This is a Superbowl party, and there's no reason you shouldn't try this on your chair.
Team Spirit
How else are you going to get your party to participate in some informal group choreography. This woman knows a thing or two about squad goals.
She's A Veteran
Beyoncé already performed in 2013, so she knows what she's doing.
Come on, NFL and Bey's scheduling team. Do the right thing.
Images: Ilya S. Savenok/Getty Images Entertainment; Giphy (8)