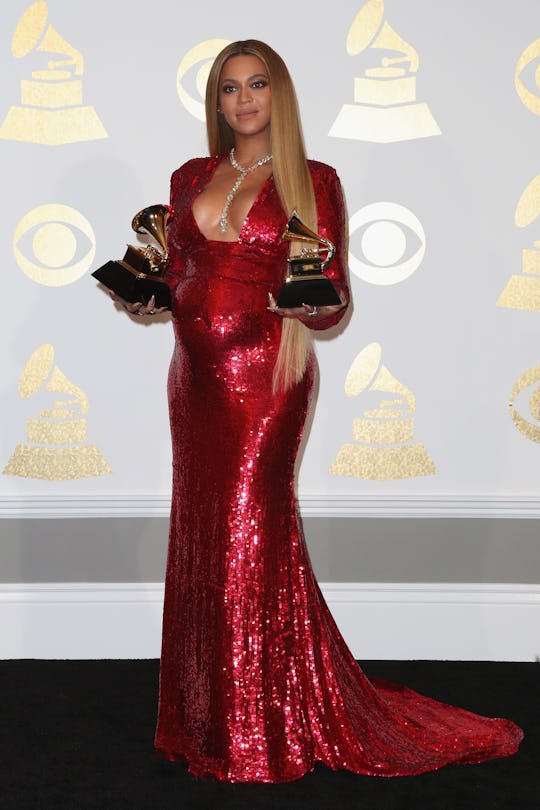 Frederick M. Brown/Getty Images Entertainment/Getty Images
Beyoncé's Latest Bump Photos Are On Fire
To no one's surprise, Queen Bey has done it again. Much to her fans' delight, Beyoncé posted new bump photos on Monday, showing off her enviable maternity style. The photos of her in a black velvet dress are on her website, in case you need to get your daily "Beyoncé being fabulous" fix.
Just in case you've sworn off social media and human contact for the past month, Beyoncé is expecting twins with husband Jay Z. The singer's pregnancy announcement, a photo of her holding her baby bump while adorned in a veil, bra, and underwear, broke the Instagram record for the greatest number of likes on the social media site. And Beyoncé hasn't stopped working her bump since then, whether in a sparkly, gold, Gustav Klimt-inspired number during her performance at the Grammys, or in the sequined red dress cut down to there that Beyoncé changed into after her Grammys performance.
The latest photos of Beyoncé's maternity style setting social media aflame show the singer heading out for a night with her family and some close friends, including former Destiny's Child bandmate Kelly Rowland, to celebrate her stepfather Richard Lawson's birthday. Fittingly for a night with Rowland, Beyoncé's ensemble had a bit of the '90s throwback vibe going on, with a black choker around her neck and thigh-high boots. Oh, and, of course, a leather jacket.
While Beyoncé and Jay Z have yet to publicly announce the due date for their twins, the "Lemonade" singer still seems to have at least a few months to go before giving birth. That means that there will be plenty more opportunities for her to show the world that maternity style doesn't have to be limited to stretchy pants and muumuus. Why not go for a crown and some gorgeous lingerie instead?
Queen Bey previously had an opportunity to perfect her maternity style when she was pregnant with daughter Blue Ivy, who was born in 2012. And it seems that good fashion choices run in the family. Blue Ivy and Beyoncé made headlines when they attended the Beauty and the Beast premiere in Los Angeles, both wearing green, flowing dresses from Gucci. (They also showed off matching funny faces on the red carpet.)
We'll have to wait a few more months to see what kind of fabulous style the Knowles-Carter twins will be sporting. But, knowing Beyoncé, it's sure to be good. We cannot wait.