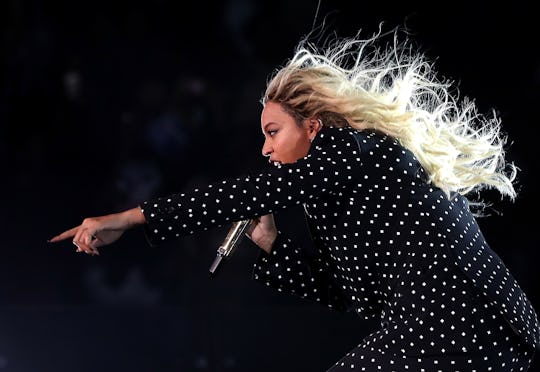 Justin Sullivan/Getty Images News/Getty Images
Bey's Babies Are Already In The Illuminati, Right?
Beyoncé is the queen of a lot of things. She's the leader of the BeyHive, she is also, like, the queen of music history (sorry, Nicki, Rihanna, Mariah). She's also, according to some people, in The Illuminati. With her new pregnancy announcement, people are kind of freaking out when it comes to linking the baby news to The Illuminati. Don't believe me? Just check out some of these Beyoncé pregnancy Illuminati reactions on Twitter that will prove that this unknown "society" still has people talking.
While Beyoncé Is In The Illuminati rumors have been running rampant for some time, there has never actually been a confirmation that she (or Jay Z) are in The Illuminati. In fact, no self-respecting Illuminati member would ever confirm such a thing. But, it doesn't help that some people — those who enjoy a good Illuminati conspiracy — are able to find "signs" in just about everything that the Carters do. The Hov symbol? Try The Illuminati pyramid. The good luck and fortune that Beyoncé has had in her life? That's thanks to The Illuminati, right? (Have you seen Beyoncé perform live? You will know that she has earned her fame and fortune all. by. herself.)
Then again, it's still kind of fun to see The Illuminati theories that come out when Something Big Happens to Beyoncé — and we've got a roundup of some of the best Illuminati reactions to the pregnancy announcement. (Note: most of the "reactions" include, "Do you see where I'm going with this...". The answer is no, I don't, but I'm here for the excitement.)
As we can see, there are some theories out there (even though we know they're not true) that these babies had something to do with The Illuminati. For now, though, it's more about celebrating the exciting news that there will be two additional Beyoncé children in this world, shortly, a.k.a., a true blessing for us all.