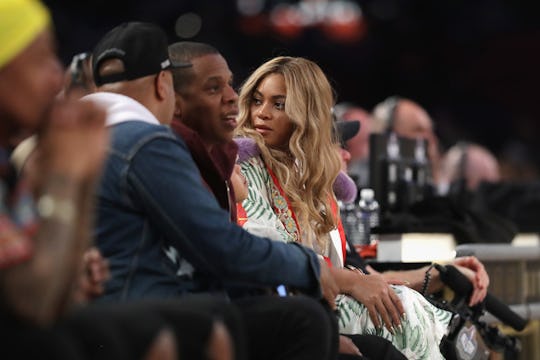 Ronald Martinez/Getty Images Sport/Getty Images
Beyoncé Goes Out To Dinner, Becomes Meme
As most of the world can agree, Beyoncé is the Queen Bey, the star, everyone else is just one of her little minions. Okay, so obviously Beyoncé is much more gracious, kind, and friendly than the fictional Regina George from Mean Girls or any movie prom queen, but the fact remains that she's basically an ethereal being. Just about everything she does, says, and posts online is instantly ten times cooler just because she's doing, saying, or posting it. Take, for instance, going to a restaurant. Now, for mere mortals, there's really nothing special about pointing to a menu or check while out to eat, but when Beyoncé does it, it gets turned into a viral meme. And the latest example of this, the Beyoncé restaurant meme trend taking over Twitter, is just more proof that Mrs. Carter may just be too pure for this world.
Wednesday night, the pop diva and mom to Blue Ivy took to Instagram to upload a series of photos from a glamorous night out. Seems normal, right? But one photo from the series in particular has turned itself into a hilarious meme that not even someone as genius as Bey herself could have seen coming. A picture of Beyoncé pointing to a menu (or check?) as she speaks to a waitress at a restaurant has since gone viral, as the internet has created the ultimate joke out of it.
For whatever reason, the photo has taken on a life of its own, and it's basically the funniest thing on the internet today:
Perhaps it's the star's candidness in the photo that has inspired so many jokes to sprout from it, or maybe the absurdity in Queen Bey doing something so ordinary that has caused it to become a meme. Whatever the case, though, there's no arguing that, once again, Beyoncé has blessed us with another perfect photo.
Of course, all the jokes are done in good fun, and definitely make for a good distraction from all the political hellfire surrounding America lately. And as Beyoncé definitely won't be in attendance at this year's White House Correspondents' Dinner, unlike prior years, this extra dose of the Queen is just what the American people need.
Hopefully these Beyoncé memes have worked to cheer you up, or just make you smile. Obviously, there are a lot of things going wrong in our country these days, but distracting yourself with a few Beyoncé jokes can go a long way in repairing your sanity — although that can be said about most things Beyoncé-related.