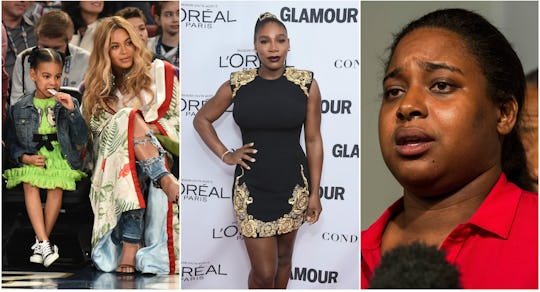 Theo Wargo/Getty Images Entertainment/Getty Images; Jamie McCarthy/Getty Images Entertainment/Getty Images; Andrew Burton/Getty Images News/Getty Images
Do You See What Is Going On Here?
When Beyoncé Knowles gave birth to Blue Ivy in 2012, everyone got really excited about her rental of a private "executive birthing suite" at Lenox Hill Hospital in Manhattan for a rumored $1 million. Tabloids cheeped about the ~excess~ of the privacy and security measures as the Knowles-Carter family reportedly took over a wing in the hospital, which put out other parents of newborns, according to the New York Times. From Beyoncé, it is just a hop, skip, and a jump to a different birthing ward and the recent birth of Serena Williams' first child, Olympia — following which a story of harrowing post-birth treatment. And from there, a tragic walk over to the story of activist Erica Garner, who died four months postpartum just after Christmas.
Bear with me as we get there.
Williams is an athlete of historic talent with a high-level understanding of her own body. Prone to blood clots, she experienced shortness of breath the day after delivering her baby and, knowing the drill, asked for a CT scan and heparin drip (to thin her blood). The doctor gave her an ultrasound instead, and, this yielding no results, agreed to a CT scan following Williams' repeated requests. As she recalled to Vogue in an interview about "motherhood" (really a cute term for her brush against maternal mortality):
The nurse thought her pain medicine might be making her confused. But Serena insisted, and soon enough a doctor was performing an ultrasound of her legs. "I was like, a Doppler? I told you, I need a CT scan and a heparin drip," she remembers telling the team.... "I was like, listen to Dr. Williams!"
The scan revealed blood clots in her lungs. The life-saving heparin later caused a hematoma in her abdomen from hemorrhaging at her c-section site. It was, let's say, a nightmare that turned out OK, at least in part because Williams has incredible body knowledge — imagine if she didn't feel empowered to keep demanding treatment, or to flag the staff that something was wrong? Forget that she was trying to care for her newborn daughter Olympia even as she struggled to heal.
Let's go to Erica Garner now.
Shortly after Christmas, news hit that Erica Garner, the 27-year-old daughter of Eric Garner, had suffered a heart attack and was brain dead. Her baby, named for Erica's father — who died in a non-regulation police chokehold in 2014 — was four months old. She also left behind an eight-year-old daughter.
We know that Black women are 243 percent more likely to die from pregnancy or child-birth-related causes than white women, per ProPublica (yes, 2-4-3 percent). We also know — cannot pretend we do not know — that a system designed to kill and quash Black lives takes its toll on Black families, and Black mothers in particular.
Writing in the New York Times, Kashana Cauley cited an interview with Garner just a month prior to her death, making the case that stress contributed to her death — and to the deaths of bereaved mothers like Venida Browder, the mother of Kalief Browder, teen victim of unlawful pre-trial detention at Rikers Island who took his own life. Venida was widely said to have "died of a broken heart." Wrote Cauley:
"They do these things for you to give up," Erica Garner said in an interview last month. "Look at Kalief Browder's mother. She died of a broken heart because she kept fighting for her son." She added, "I'm struggling right now, with the stress and everything."
Following the death of her father at the hands of police in 2014, Erica Garner became an activist, devoted to seeking justice for all the families affected by racist policing. There is no question that this work took a toll on her. And it isn't hard to draw a link from the grief Erica Garner felt for her father and the searing effect of giving his name to her newborn.
Thinking about the life-changing trauma of childbirth, and the emotional Achilles' heel that your baby becomes almost instantly, I cannot even fathom what continuing to process the loss of her father — and the loss of other people's children at the hands of violent police officers — did to Erica Garner. Because she lived to speak out for those families.
There are two pieces here: 1) maternal care that is among the worst in the developed world (the U.S. ranks 60th, worldwide for infant mortality, per Stanford research), and far poorer for women of color, and 2) the deliberate and systemic attack on Black bodies that takes place every day across the country.
Last year, a researcher for the CDC who focused on studying maternal mortality died three weeks after giving birth at age 36. Shalon Irving was a woman of "means," so to speak, and yet, as Nina Martin wrote in a piece jointly published by NPR and ProPublica, "The main federal agency seeking to understand why so many American women — especially black women — die and nearly die from complications of pregnancy and childbirth had lost one of its own." Irving was privileged and educated, but she was still Black, and therefore at risk of being given poorer medical treatment, having her symptoms ignored, and given less pain medication, per studies into racial bias cited by U.S. News.
Rebecca Schoenkopf summed it up neatly at Wonkette, in a piece that linked Irving and Garner: "The stress of everyday racism on Black women's bodies, in combination with their pregnancies, is killing them."
So, what of Beyoncé?
If you knew that nothing — not education, not wealth, not a fluency in issues of racial discrimination — could keep you from dying during or after childbirth as a Black mother, wouldn't you move heaven and earth, and perhaps a piece of Lenox Hill hospital, to ensure that you get the best care you can while delivering your child? I would, and I'm a privileged white person from a country with single-payer healthcare.
The real story with Beyoncé wasn't the birthing suite, it was the horrific odds that a Black woman faces when she stares down the scariest, if most exciting moment of her life: the arrival of her child.
Hospitals give you little birth plans to check off, and goodie bags when you leave. It's all a distraction. We are not looking after mothers in this country. Our maternal care is far, far below that in other countries. "Babies are dying. Women are dying," doula Regina Conceição recently told Romper in a call for better maternal and postpartum care.
Serena's cover story in Vogue isn't about her "comeback" — fuck the comeback, if you'll excuse me for channeling John McEnroe for a moment. It's about the chilling account of a mother who felt her body developing the very sort of clots that could have given her a stroke and ended her life just hours into that of her child. It's about the precise mechanism by which Erica Garner died in the early postpartum period after devoting the last few years of her life to fighting for justice for her father. It's about the idea that babies' lives matter — briefly — but mothers lives, Black lives don't.
Check out Romper's new video series, Romper's Doula Diaries:
Watch full episodes of Romper's Doula Diaries on Facebook Watch.