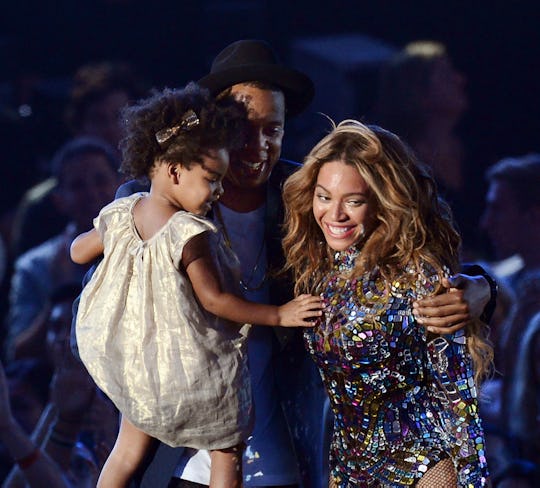 ROBYN BECK/AFP/Getty Images
Beyonce Shared Pics From Blue Ivy's 4th Birthday Party, & It Was Total #PrincessGoals
I think it was always pretty safe to assume that Beyoncé and Jay Z's daughter Blue Ivy has a fancier life than most people, but now we actually have proof. Beyoncé shared pics from Blue Ivy's 4th birthday party on her website Tuesday, and let's just say it was basically nicer than my own wedding. Blue Ivy celebrated with a gorgeous fairy princess-themed party, which took place under a giant outdoor tent, decked out with flowers and greenery, colorful decorations, couches for the adults, and a number of cozy teepees perfect for young party guests to hang out in. There also appeared to be a princess dress-up corner (complete with a pink, striped tent to change in) and even an archery set. In other words, it was a 4-year-old's dream.
But that wasn't all. Beyoncé and Jay Z surprised Blue Ivy with actual fairy princesses — or women dressed up as fairy princesses, at least — complete with fancy gowns and tiaras and wings. Guests later ate at a long table with chairs decorated with sets of fairy wings, and then (this part isn't confirmed, but it's what they did in my mind) they probably had a princess tea party with cupcakes and wee little crustless sandwiches, and omg I am so doing this for myself next year.
But the real princess of the day, of course, was Blue Ivy, and she celebrated her big day in not one, but two outfits (clearly the apple doesn't fall far from the very glamorous tree). According to E! News, Blue wore a dress with a pink tulle skirt and Converse sneakers (you know, to up the cool factor), and later changed into a purple party dress covered in colorful butterflies. She also wore wings and a tiara, because, obviously.
But it turns out that Beyoncé wasn't the only one proudly showing off photos from Blue's amazing party: Solange Knowles also shared a snap from Blue Ivy's party on Instagram, calling the 4-year-old "my twin" and writing "my niece for President."
Coolest birthday party of all time? Yeah, I think so.