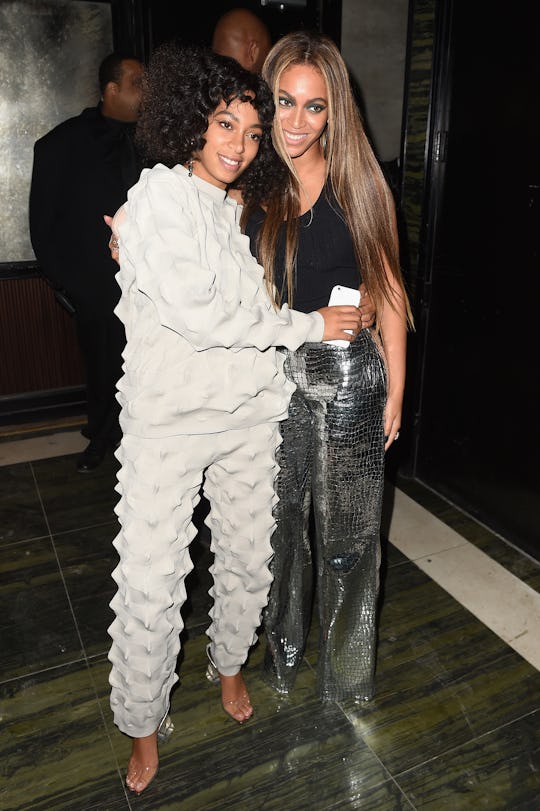 Nicholas Hunt/Getty Images Entertainment/Getty Images
Beyonce & Solange's 'Interview' Is Illuminating
Following the success of Solange's very well-received album A Seat At The Table, she graced the cover of Interview magazine with a particularly interesting interview on the pages inside. Solange was interviewed by her sister Beyoncé, which is fascinating for two reasons: not only is it a genuine look at their relationship, but also an incredible pair-up of two hugely talented women with a lot of star power. They understand each other perfectly both because they grew up together and because they've had to deal with an intense amount of fame and scrutiny. The most fascinating things from Bey and Solange's interview give fans a deeper, more personal look at both women and how they relate to each other.
For Solange, being interviewed by Beyoncé felt like things were coming "full circle." A Seat At The Table was a very personal album that already had a lot of family influence because Solange interviewed their parents for it, so it was fitting for Beyoncé to interview her about the album. Solange called the interview with her sister "one of my favorites to date" and reading through it, it's easy to see why. Though they are different artists in many ways, their love and support for each other shines through the entire interview.
Sisterly Support
BEYONCÉ: I'm so happy to interview you because, clearly, I'm your biggest fan and I'm super proud of you.
Throughout the interview, it's clear just how much Beyoncé and Solange respect each other as artists and as people. There's something very sweet about them complimenting each other, and giving credit where credit is due when it comes to things they've learned from each other. Their bond is evident in how they talk to each other – and according to them, they never even fight. "You did a kickass job [as a big sister]," Solange says at the end of the interview. "You were the most patient, loving, wonderful sister ever. In the thirty years that we've been together, I think we've only really, like, butted heads...we can count on one hand."
The Small Stuff
It's always a little fascinating to see huge stars act like normal people because they can seem so removed from the daily lives of their fans, so Bey and Solange chatting about things as normal as parent-teacher conferences and a love for The Real Housewives of Atlanta is oddly refreshing even though it's such a small part of the conversation. Despite their extraordinary lives they have to deal with ordinary things too, and the reminder is always nice.
Finding Her Voice
SOLANGE: Growing up in a household with a master class such as yourself definitely didn't hurt. And, as far back as I can remember, our mother always taught us to be in control of our voice and our bodies and our work, and she showed us that through her example. If she conjured up an idea, there was not one element of that idea that she was not going to have her hand in.
Solange speaks about always having a strong sense of her identity and a desire to stand out that has helped her in her career. But a lot of her strength comes from her family, too.
The Inspiration Behind The Album
SOLANGE: The inspiration for this record came from all of our voices as a collective, and wanting to look at it and explore it.
Though family provided part of the inspiration for A Seat At The Table, there were a lot of elements in play. It was also an album about Solange's growth as a person, as well as the micro-aggressions she and her friends have had to deal with on a daily basis. She also gives shout-outs to other female artists and producers who have inspired her, like Minnie Riperton, Syreeta Wright, and Missy Elliot.
Solange Gets Starstruck, Too
BEYONCÉ: One of my proudest moments as a sister was when I was able to introduce you to your hero, Nas, and you cried and acted a fool. I was so surprised that Mrs. Too-cool-for-everything was acting a fool.
In an adorable moment of sisterly teasing, Beyoncé pokes fun at Solange for crying and freaking out when she finally got to meet her hero, Nas. Beyonce then asks if there's anyone else who would get that reaction from her, which is when Solange reveals that getting anywhere near Diana Ross makes her break out into hives of anxious excitement.
Those are just a few moments from an interview that dives deep into one of the best albums of the last year and the artist who made it happen, as well as all the things that inspired Solange to create it in the first place.