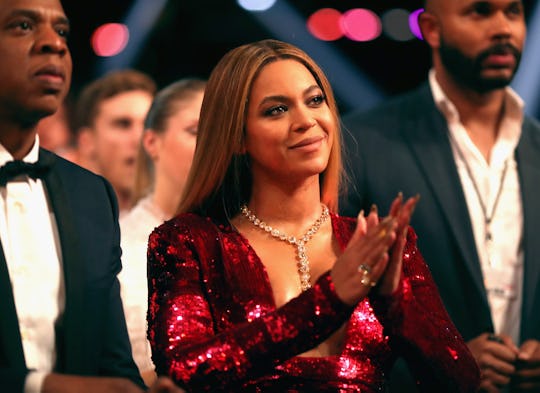 Christopher Polk/Getty Images Entertainment/Getty Images
Beyoncé Surprises Alvin Ailey Dancers After Show
As if you needed another reason to love her, Beyoncé has once again slayed a large group of people, merely by existing. Saturday night, the singer-songwriter made a surprise appearance at an Alvin Ailey dance performance in Los Angeles, California, and even made it a point to pose for pictures afterwards. But this wasn't just come random appearance, no. By surprising the dancers, Beyoncé was also supporting her mom's mentorship group, Tina's Angels. The Alvin Ailey company was performing at the Dorothy Chandler Pavillion at the LA Music Center when Queen Bey decided to stop on by and give the dancers her well wishes, which were obviously met with ecstatic excitement.
Beyoncé's mom, Tina Knowles, founded the Tina's Angels mentorship group as part of her non-profit work, the WACO Theater Center, which she runs with husband, Richard Lawson. The group aims to focus on the "education and empowerment of 14-15 girls and boys," according to a statement released by Parkwood Entertainment, the entertainment company Beyoncé founded in 2007.
Knowles took to Instagram Saturday night to share the love, and express her joy at working with the young girls, and her daughter Beyoncé's willingness to get involved. "Backstage after the Alvin Ailey dancers performance it was magnificent," she captioned one of the photos. "With my beautiful Tina's Angels and with a few of the mentors. My very gracious daughter who met the girls and spent some time with them and made their day!"
As if her generosity and kind heart weren't enough, remember also that Beyoncé is currently pregnant with twins — something the singer hid in the Instagram photos by covering up her bump with her clutch and pink coat. In other words, no one expects the mom of soon-to-be-three to fulfill any sort of duties to anyone but her twins, and yet, there she was on Saturday night, being royally incredible, as usual.
Knowles was also able to attain a video of the moment when Beyoncé surprised the Alvin Ailey Dancers backstage after their performance, and their reactions were obviously understandable:
And if you need more reasons to love her (you don't, but allow me to indulge you anyway), this isn't the first time Beyoncé has surprised fans. Not even close. This wasn't even the first time Beyoncé took time out of her day to surprise a group of dancers. In 2013, she surprised a Camden, New Jersey dance troupe on Good Morning America, sending them a powerful message of love, along with some goodies as well.
Clearly, Beyoncé is no stranger to making peoples' days, and her latest show of support is none too shocking. She has consistently topped the list of most charitable celebrities, and her song lyrics carry strong, feminist messages with them as well.
Honestly, the world will always need more Beyoncé, and this latest instance of the Queen being flawless might be just enough to distract you from the political hell-fire happening now. Maybe.