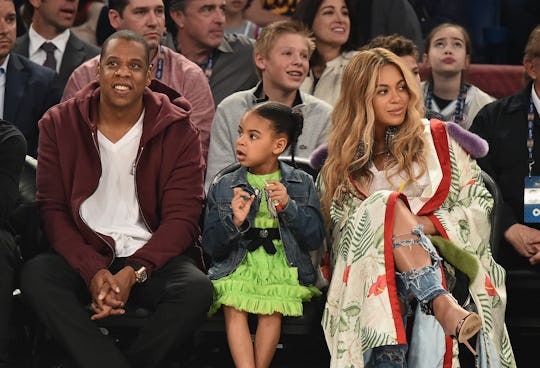 Theo Wargo/Getty Images Entertainment/Getty Images
Beyonce Twins Names Inspired By Blue Ivy
Beyoncé is so mean. She won't tell her fans her babies' genders, how much weight she gained, or even share pics of their first poops. Rude! The public has been left to speculate on on the details of the babies, but I think I can help, because these Beyoncé twin name predictions based on colors and plants are soundly based in science and definitely not wild guesses, unlike the color- and plant-inspired baby names randomly generated by this bot. Unlike everyone on Twitter, I actually did my homework, and I'm reasonably certain that whenever the new additions to the Carter family are ready to meet the world, their names will be among the following.
Let's look at the facts, here. Beyoncé is known for dropping secret clues, like when she posted all those pictures of lemons and lemonade on Instagram six months before her Lemonade album was announced, plastered the Ivy Park logo on a bass drum at her Superbowl halftime show nearly two months before revealing her new clothing line, or when she showed her baby bump in a promotional video for Ivy Park that was released hours before posting the official Instagram announcement. And of course, she's constantly hinting at her affiliation with the Illuminati.
The point is, if she's already named the kids, she's definitely also left clues for her fans. It's as simple as combing through every photograph she's ever shared or appeared in. Don't worry, I did all the legwork. Here are the top contenders:
Purple Poinsettia
That's right, Bey's lemon gallery was actually a double hint. Not only did she want her fans to know that she was working on an album in the fall of 2015, she also hinted that she was trying to get pregnant! Boy, that woman keeps herself busy.
Yellow Sunflower
A month later, Beyoncé apparently decided that working on an album and a clothing line while pregnant and caring for a preschooler would be too easy, so she decided to try for twins (using Illuminati magic, of course). This could be the second name.
Red Anthurium & White Peony
But maybe Bey changed her mind about those names. Just weeks after announcing her happy news, she was spotted at the NBA All-Star Game in New Orleans with her husband and daughter while sporting a $22,000 Gucci kimono with red anthurium and white peonies on it.
Lavender Hydrangea & Yellow Banana
Of course, it's a woman's prerogative to change her mind, and maybe that's what happened in May, when she shared a photo of herself and Blue Ivy in matching $5,400 Dolce& Gabbana gowns, surrounded by quirky fruit-printed wallpaper. Maybe she even let Blue pick the second name.
But It's Always Good To Have Options
Perhaps when Bey posted her pregnancy announcement, she wanted to leave clues for the names, but she hadn't yet narrowed them down. It makes perfect sense that the reason she posed in an overgrown garden is because all of those plants were on her short list. In that case, the twins might also be named Pink Rose, Purple Rose, White Rose, Peach Rose, Yellow Poppy, White Poppy, Pink Poppy, Orange Poppy, Purple Peony, White Peony (again!), Pink Orchid, Cream Water Lily, Yellow Texas Yellow Star (probably not), Yellow Mimosa, Green Fern, Green Eucalyptus, and best of all, Green Ivy. The truth is in there somewhere, mark my words.