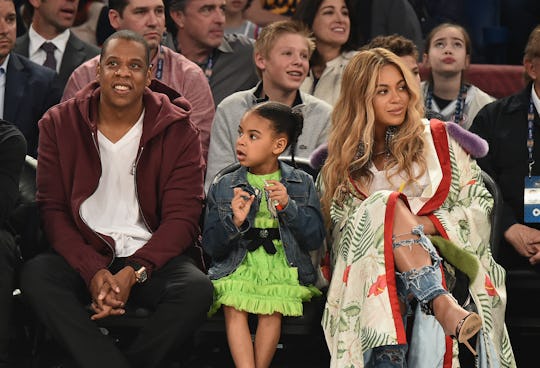 Theo Wargo/Getty Images Entertainment/Getty Images
Tina Knowles Just Dished On Beyoncé's Twins In A New Interview, & OMG It's Cute
It's been three months since Beyoncé gave birth to her twins, Sir and Rumi, and on the whole, she's kept a pretty low profile as she's settled into life as a mom-of-three. But like the proud grandmother that she clearly is, Tina Knowles gave an update on Beyonce's twins in interview with Us Weekly Thursday, and it was so sweet hearing her gush about her daughters little ones. Knowles spoke to the magazine while attending the Habitat For Humanity Builder's Ball in Beverly Hills, and said that Sir and Rumi were "very young but they like to touch and they're adorable and just beautiful and healthy," adding that she was "just so happy."
But that's not all she had to say. Although it might not be unreasonable to think that Beyoncé and JAY-Z's first-born, Blue Ivy, may have had a hard time adjusting to sharing the spotlight after five years as an only child, it sounds like she's actually loving life as a big sister. Knowles said that Blue helps to feed the twins and is "always picking out cute clothes for them," and even though they may be too small to play with at this point, Knowles told Us Weekly that Blue is "always checking on them and helping take care of them."
But Knowles also made one comment in particular that makes it sound like Blue's bond with her little sister and brother goes much deeper than just being a good helper. She told the magazine that Blue "feels responsible for them being here because she prayed for them," which, honestly, is such a beautiful and heartwarming sentiment — especially since reports have suggested that the twins' arrival into the world may have been a little rocky.
Though Beyoncé gave birth to her twins in June, it was a month before she decided to officially confirm the news, in a now-iconic Instagram photo in which she shared a photo of her holding her babies, along with a caption sharing their names. Part of the reason for the long wait was likely just due to the family's totally understandable desire for privacy, but they may have also needed time to adjust after the twins' reported premature birth and extended hospitalization.
According to The Daily Mail, Beyoncé and JAY-Z's twins remained in hospital for a couple of weeks after their birth, and required medical attention for jaundice — a common complication for premature babies. Although the superstar couple likely had lots of resources available to them to make the hospital stay as comfortable as possible, it couldn't have been easy for the couple to watch their newborns struggle. And it was probably also pretty unsettling for Blue as well, who at only 5 years old likely would have had a hard time truly understanding why her parents and baby siblings had to remain at the hospital instead of coming home right away.
These days though, it sounds like the family is all together and doing well. According to E! News, the Knowles-Carter fam took the twins home to a lavish, $400,000-a-month rental home in Malibu for the summer, where they had the chance to settle into family life in the privacy of the 6.3-acre estate. But as much as their life might be ruled by the needs of the infant twins right now, Beyoncé and JAY-Z have also made sure that their eldest girl still gets some special time with her parents: according to People, the superstar couple was recently spotted taking Blue to see a Bruno Mars concert at at Madison Square Garden, marking the first time the three of them had appeared in public since Beyoncé gave birth.
Beyoncé's twin pregnancy was pretty much as high-profile as a celebrity pregnancy can get, and many people on social media couldn't help but joke about the possibility of Blue Ivy feeling totally bummed out about her siblings stealing her supposed spotlight. But from the sounds of it, she's proven that, even at 5 years old, she's already far more mature than a lot of Twitter users. Because judging by Tina Lawson's comments, Blue is an incredibly loving and helpful older sister, and Rumi and Sir are definitely lucky to have her.
Watch Romper's new video series, Romper's Doula Diaries:
Check out the entire Romper's Doula Diaries series and other videos on Facebook and the Bustle app across Apple TV, Roku, and Amazon Fire TV.