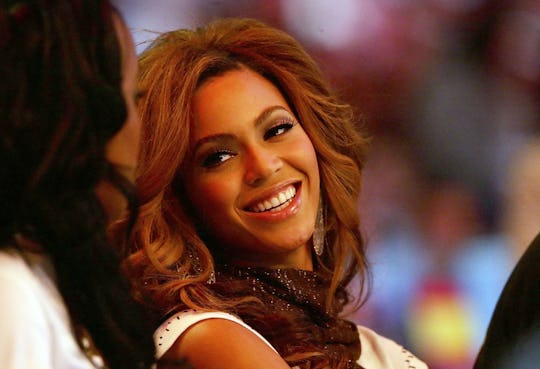 Lisa Blumenfeld/Getty Images Sport/Getty Images
Beyonce Visited Harvey Victims In Houston With Her Mother & Blue Ivy & Made A "Significant" Donation
Although it's going to take years and a lot of financial support for Texas to rebuild after the hurricane earlier this month, the presence of a celeb who cares can help uplift spirits. Especially Beyoncé. Yes, Beyoncé visited Harvey victims in Houston with her mother, Tina Knowles, Blue Ivy, and Michelle Williams on Friday and no, it won't make any water damage suddenly disappear or people's homes magically regenerate. But it was a kind, very supportive show of support from basically everyone's fave.
The best part is that in addition to her BEYGOOD team, 5-year-old Blue Ivy was in tow, witnessing just how important is to give back to people who need it. The whole squad touched down at St. John's United Methodist Church, a church she went to as a child in Houston.
According to social media posts from people on the scene, Queen Bey addressed the crowd. One user, @TheDailyBey, wrote on Twitter, "Beyoncé was very emotional, especially during her speech. She shed tears. Her mom stood by her side, and they seemed happy to be there to help."
They quoted Beyoncé as saying, "Houston is my home. I'm so thankful to God that I've been blessed so that I can bless other people."
After addressing the crowd, Beyoncé hugged survivors and took pictures with everyone in the 400 plus crowd, according to attendees on social media.
The singer also served food at the luncheon and made a "significant" donation before arriving, Rudy Rasmus, the pastor at St. John's, told E! News. According to a statement Beyoncé made to the Houston Chronicle, she intends to continue working on a "plan" with the pastor continue donating where it helps the most as the church can better understand what victims and congregants need.
"Y'all are my family," she reportedly told the crowd on Friday.
She added:
I just wanna say that I'm home. This church is my home. I was maybe 9 or 10 years old the first time I sat there where my daughter is sitting. I sang my first solo here and I just wanna thank you for lifting my family up, for praying for me, and for being such an incredible example of what light and love is. This today is a celebration of survival.
In addition to Beyoncé and Michelle Williams showing up, the 400 people also attended a praise concert by David Michael Wyatt and received a pair of Air Jordans, donated by Nike.
It's not much, and it won't bring anyone's home back. But knowing that there are people out there like Beyoncé to give back to Harvey's victims shows how strong the community is. As Beyoncé told the crowd on Friday, "I thank God that you're safe, your children are safe. I think what really matters is your health and your children and your family."
If you want to help out, you can donate through Beyoncé's website to help Harvey victims going forward.