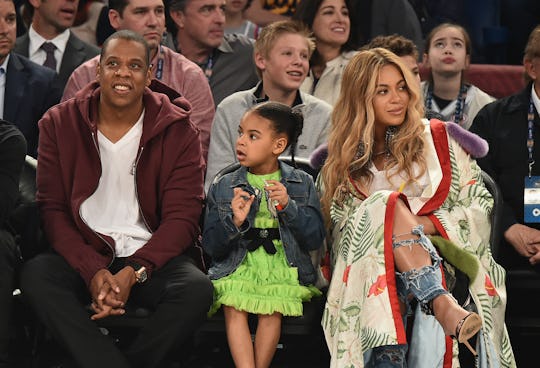 Theo Wargo/Getty Images Entertainment/Getty Images
Beyoncé Was Just Spotted For The First Time Post-Baby
Since the arrival of their twins, Rumi and Sir, the Carter family has remained elusively out of the public eye. That all changed when a source reportedly saw both Beyoncé and JAY-Z arrive for dinner at Nobu in Malibu, California this week. That's right, Beyoncé was spotted for the first time post-baby, and fans are rightfully freaking out.
According to Entertainment Tonight, a source saw the two arrive separately with a substantial security detail this week:
Their security arrived in an Escalade, got out and checked the parking lot, then JAY-Z exited the car. A second Escalade arrived with Beyonce and two other security cars. The couple had seven security guards plus three from Nobu -- 10 total.
The same source also stated that the Carters left Nobu around 11 p.m. local time.
Prior to this sighting, members of the Beyhive everywhere have been not-so-patiently waiting for the return of their queen. She has been reportedly living in Malibu for the summer with her husband and children, recuperating together in a lavish mansion. A source close to the family told E! News that Beyoncé and the twins were doing well in the days following the birth, as well as stating that Beyoncé "looked amazing and was glowing."
While it was important to give the family time out of the spotlight, fans around the world are celebrating the news of Beyoncé's return to the public eye.
Queen Bey first broke her public silence since having the twins last month when she released a statement of acceptance for the Viewers' Choice Award at the BET Awards. In the statement, she thanked her family and fans for their continued support:
And thanks to all the fans, my Beyhive, for riding with me. I love and appreciate you. And to everyone at the show tonight, you all look so beautiful. And at home, thank you, and have a wonderful, wonderful night. From, Beyoncé.
Beyoncé was not physically present at the BET Awards, however. Her award for the Lemonade track 'Sorry' was accepted on her behalf by Chloe x Halle.
Even as fans gush over this recent run-in with the Carters, they are anxiously awaiting a sighting of the twins. The two newest members of the Carter family have yet to be photographed, but there is no doubt that they will dazzle. In the meantime, everyone can obsess over Beyoncé sightings and share support for the famous family. Welcome back, Bey. We've missed you.