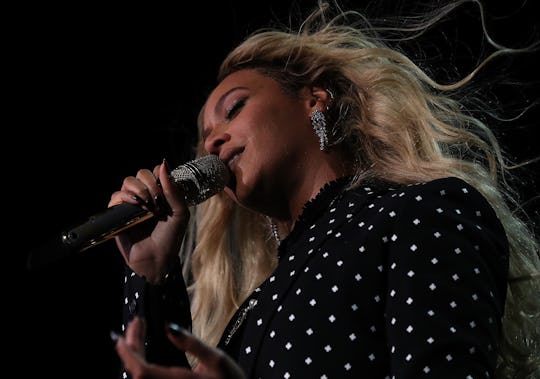 Justin Sullivan/Getty Images News/Getty Images
Beyonce Was Spotted Wearing Spanx, & The Internet Is Stunned
For whatever reason, anything Beyoncé does is obsessed over by pretty much everyone and their grandma. OK, so, it probably has something to do with the fact that Beyoncé is as close to perfect as any human being has ever been. But sometimes, people's obsession with Queen Bey goes a little too far. Take, for instance, the public's obsession with wanting to see pictures of Bey and her family. Despite the fact that Beyoncé has been more than generous with her photo updates on Instagram, people always want more. And now, after Beyoncé got "caught" wearing Spanx, the internet is going crazy about it and they show no signs of forgetting about it.
And, honestly, that is kind of ridiculous. Aside from the fact that Bey literally just pushed two little humans out of her body, she's also an adult woman and can wear whatever the heck she wants. Seriously, while most people's responses to Bey's fashion choices have been unwaveringly positive, it's still a little unfortunate that her having on shapewear is such a big deal. Luckily enough, plenty of Beyhive members were quick to jump to Beyoncé's defense, and remind the (albeit small amount of) trolls that Bey looks hot — and it really doesn't matter at all that she wore Spanx.
After pictures began circulating of Bey wearing Spanx to Rihanna's third annual Diamond Ball, the internet lost all of its chill for some reason. Apparently, people forget that Beyoncé is, in fact, just a human being like the rest of us and sometimes wants to wear something that will make her feel a bit more confident or comfortable.
To be quite frank, it's kind of refreshing to see a celebrity wear something that so many women wear. And Beyoncé isn't alone. Speaking to In Style, Sarah Hyland and other celebrities openly admitted to wearing some form of shapewear, with Hyland declaring:
I always wear shapewear! Spanx. Everyone wears Spanx. It's just like the regular, the short Spanx. I'm one of the only people that'll be like, "I'm wearing them." But I guarantee you 90 percent of these women are wearing them and they're lying about it if they tell you otherwise.
And truly, if wearing Spanx or another form of shapewear helps anyone feel more comfortable in what they're wearing, then it shouldn't matter. And that's what most of the internet seems to think. In fact, Bey's Spanx cameo has actually had many people praise the singer for getting real. Because while it might look like Bey has it all together, everyone needs a little help holding everything in place.
But perhaps one of the most typical reactions people had to Bey's Spanx outfit was that she thought of a creative way to make them work for her specific dress. Considering the fact that her dress had a high slit on one leg, Bey (or her stylist — the internet is unsure), cut off the length of the shapewear on the side of the dress that showed off her gorgeous, strong leg.
Honestly, being a mom of three and arguably one of the biggest pop stars in the world is probably pretty exhausting. And while many have claimed Bey has "gotten her body back" in record time, does it really matter?
No. Just like it doesn't matter that she's wearing shapewear under her tight-fitting dress. Beyoncé is a human, just like the rest of us. And while she may live a highly public life, that doesn't mean she isn't entitled to her privacy. She also doesn't owe anyone any explanations, especially for wearing Spanx.
So, in conclusion, Beyoncé looks great with or without Spanx — end of story.
Watch Romper's new video series, Romper's Doula Diaries:
Check out the entire Romper's Doula Diaries series and other videos on Facebook and the Bustle app across Apple TV, Roku, and Amazon Fire TV.