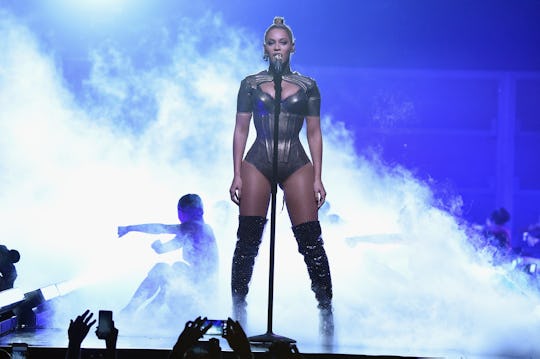 Theo Wargo/Getty Images Entertainment/Getty Images
Beyonce Will Perform At CMAs & The Internet Is Reacting Exactly As It Should
BraDidn't think you'd be seeing a Beyoncé performance in the next little while? Psych! Beyoncé will be performing at the CMA Awards tonight in Nashville, according to CMT, which means fans across the country will be able to watch Beyoncé slay live on ABC starting at 8:00 p.m. ET. No word yet on what song she'll be performing at the 50th Annual CMA Awards, but considering the show's tagline is "Country Music's Biggest Night," I'm willing to take a wager on her song "Daddy Lessons" off of Lemonade. Either way — country or not — fans are 110 percent into this last-minute Queen Bey surprise.
According to E! News, the Dixie Chicks have covered "Daddy Lessons" in the past, so some Bey fans are wondering whether the night could feature a collaboration between all four musical Texan ladies. Other fans have speculated on what exactly Beyoncé will wear: Should we expect cowboy-themed attire? Her beautiful yellow dress from "Hold Up," which has now reached near-icon status? Finally, others don't especially care what she wears or what she sings — they're just ready to throw some fringed cowboy boots on (regardless of their country music inclinations), sit back, and enjoy the CMAs.
As one would expect from Beyoncé fans — who happen to be a super expressive bunch — the online reactions to the news of her CMA performance are absolute gold. I've rounded up a few reactions below for your viewing entertainment — and to get everyone nice and psyched up for her performance tonight.
In case you're reacting like any one of the examples above — or, you know, all of them — you may want to know a bit more about the CMAs tonight. There hasn't been mention of when Beyoncé will be playing, so fans may want to tune in to ABC when the awards show begins at 8:00 p.m. ET. Country music stars Carrie Underwood and Brad Paisley will be co-hosting the event (for the ninth time), which will reportedly include performances by Miranda Lambert, Keith Urban, Kelsea Ballerini, and Luke Bryan, among others. Dolly Parton will be receiving the CMA's Willie Nelson Lifetime Achievement Award, while Kenny Chesney will nab the Pinnacle Award.
Somewhere along the way, Beyoncé will be stepping onto the stage. Possibly with the Dixie Chicks. Possibly to sing "Daddy Lessons." And if you think the internet's reaction to the mere announcement of her performance is awesome, just wait until people start weighing in on Beyoncé's actual performance.