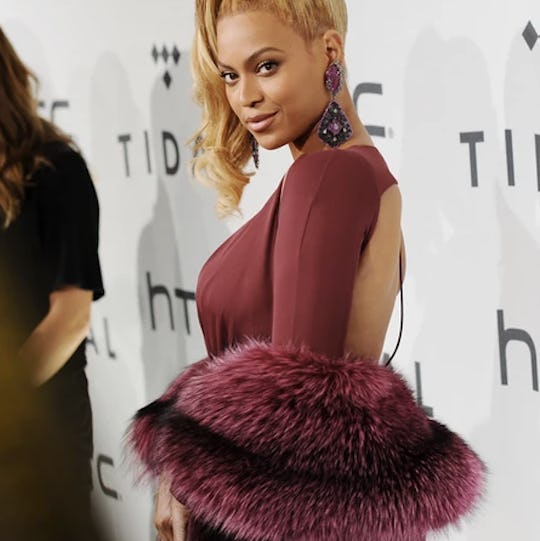 Beyoncé Will Perform At The Super Bowl With Coldplay & It's The Best News Of The Week
Fans bow down; Queen Bey has done it again. Beyonce will play Super Bowl 50 on Feb. 7 in Levi's Stadium in Santa Clara, California, according to Variety. So get ready to do the windmill booty jiggle in the living room, because Super Bowl Sunday just got a whole lot more fun. Coldplay is also slated to headline the halftime show along with Beyonce, which is cool and all, but I mean, the last time Bey performed the show, fans went bananas. And isn't is super sweet that the iconic performer is giving her fans another chance to see her in all her glory? Hail to the Bey.
Let's just hope this time, everything goes as planned. You might remember the last time Beyonce turned it out at the Super Bowl half time show: The lights inside the New Orleans Superdome actually went out. In 2013, Bey took the stage for a Destiny Child's reunion that included mega light shows, visual effects, and displays worthy of the queen she is. But when Bey shuts down a show, she literally shuts it down. Show runners for this year's performance, take note: You might want to bring an extra generator.
According to Variety, Beyoncé and Coldplay collaborated on"Hymn for the Weekend", a track off the British rockstar's latest album, A Head Full of Dreams. I know that Chris and Jay, Gwen and Bey are all pals and everything, but I like to think that Bey is performing at Super Bowl 50 for the fans.
I mean, without Beyoncé performing there will be a whole lot of this:
and this:
not to mention this:
...But you can relax folks! You're getting this too:
And, not to tease you, but wait: there's more! Brian McCarthy, who does PR for the NFL tweeted that more superstars might join the Super Bowl halftime show. According to McCarthy, the eventual line up could include Rihanna, Adele, One Direction, Justin Timberlake, and even Taylor Swift. In case you haven't passed out yet.
Twitter seems pretty excited about the news too (an understatement, obviously). "THIS IS NOT A DRILL," tweeted one user (yes, in all caps), reacting to the news.
Seriously, this guy is good, because those are some serious #SquadGoals. But he already had me at Bey.
Image: Getty Images; Giphy (6)