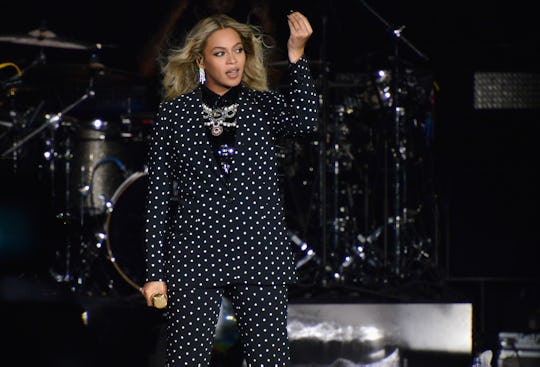 Duane Prokop/Getty Images Entertainment/Getty Images
Beyonce Will Perform Fan-Favorites At The Grammys
Beyoncé is one of the most highly anticipated performers taking the stage at the 2017 Grammy awards. Fans of the pop superstar have been speculating about which songs she would be singing, especially after her surprise pregnancy reveal last week. It's now being reported that the singer has chosen her tracks — and much to fans' delight, it seems Beyoncé will be singing "Sandcastles" and "Love Drought" for the big performance. (Beyoncé's publicist did not immediately return Romper's request for comment about her performance.)
It's undoubtedly going to be a big night for Beyoncé. The award show hasn't even started yet and she's already won some pretty high honors. The Grammys give out a few of their awards before the show officially begins, and just prior to the show, it was just announced on the Grammys' Twitter account that Beyoncé had won the Grammy for Best Music Video for "Formation." Queen Bey is nominated nine times this year and has the potential to set a new record at the Grammys. She is the only artist this year with that many nominations. If she wins each award she's been nominated for, she will break the record for most wins in one night. She's off to a pretty great start, checking off one nomination before the show officially starts.
While Beyoncé is no stranger to winning Grammys, the singer has never taken home the most coveted award of the night — but this might just be the year Beyoncé wins Album of the Year for Lemonade. Three of her nine nominations are part of the "big four" awards, which include Album of the Year, Song of the Year, Record of the Year, as well as Best New Artist (the latter being a category in which Bey is not nominated). Beyoncé's diehard fan base would love to see their favorite artist sweep these three categories. It's pretty unbelievable that Beyoncé hasn't yet taken home Album of the Year, so it would be incredible to witness her accept that award in front of all her peers.
Even if Beyoncé doesn't make Grammys history tonight, she's already bound to be one of the most talked about people on social media. Once the news broke that Beyoncé would be performing "Love Drought" and "Sandcastles" at the show on Sunday, "Love Drought" started trending on Twitter, with fans rabidly curious about what her performance would entail, considering her pregnancy. Beyoncé is known for going hard on stage, which has many people wondering if she'll take a different approach for her performance at the Grammys.
No matter what Beyoncé ends up performing or what awards she ends up winning, we're just excited to see what this amazingly talented woman has up her sleeve. It definitely won't disappoint.