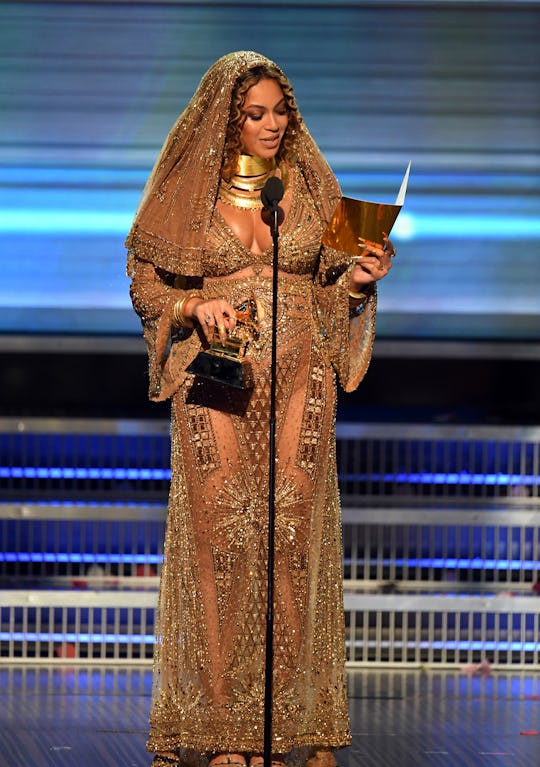 Kevin Winter/Getty Images Entertainment/Getty Images
Bey's 2017 Grammys Outfit Is One To Remember
After her sneak-released self-titled album in 2013 and a gorgeous visual album debut on HBO last year, Beyoncé commands edge-of-our-seats attention from audiences pretty much everywhere she decides to grace with her presence. With the 2017 Grammys, the award circuit for last year's Lemonade is essentially over, meaning Bey's Grammys performance will probably be the last solid Lemonade-centric medley we'll see from her live on TV. Even before the performance, though, audiences were eager to see what she'd be wearing. Beyonce's 2017 Grammys outfit, as it turns out, was her performance costume!
We already know she's capable of red carpet greatness from last year's MTV Video Music Awards, where she showed up in feathery, whimsical perfection, alongside a coordinating, but not too matchy-matchy, outfit for her daughter Blue Ivy Carter. Of course, the big difference between the VMAs and now is that Beyoncé is also a few months into her twin pregnancy, which was announced via Instagram on Feb 1 (the beginning of Black History Month). This appearance is her first since the pregnancy announcement, but it won't be her last performance while pregnant. She's slated to headline Coachella in April, too.
Beyoncé has been known to showcase her baby bumps in unexpected ways, revealing her 2011 pregnancy with Blue Ivy on stage at the MTV VMAs. In that performance, she memorably unbuttoned a boxy blazer she was wearing to reveal a sizable bump tucked into high-waisted trousers at the end of a high-energy rendition of "Love on Top." Since she didn't have anything to "hide" this time around, her Grammys outfit was very pregnancy-centric. And to be fair, she also wore this chain bikini for a pre-taped part of her performance, so there was still technically a costume change:
She swapped out her angelic headpiece for a more reasonable golden veil after she sang, all of which succeeded at invoking the Madonna and other Gaia-esque earth mother imagery. Her other performance costume was a beautiful and classically Beyoncé outfit (gold sparkles on a sheer overlay), so why shouldn't she have worn it up to the stage to accept the award for Best Urban Contemporary Album? Bey even read her speech out of a matching, gold-mirrored booklet.
After the performance and her first acceptance speech of the night, she did change into this long-sleeved red sequined gown with a plunging neckline, accompanied by a string of diamonds descending into her cleavage. Her outfit change was the perfect coordinating look for Blue Ivy's Prince-inspired bright pink suit with ruffled tuxedo shirt. Beyoncé was a woman of many looks at the 2017 Grammys and all of them slayed.