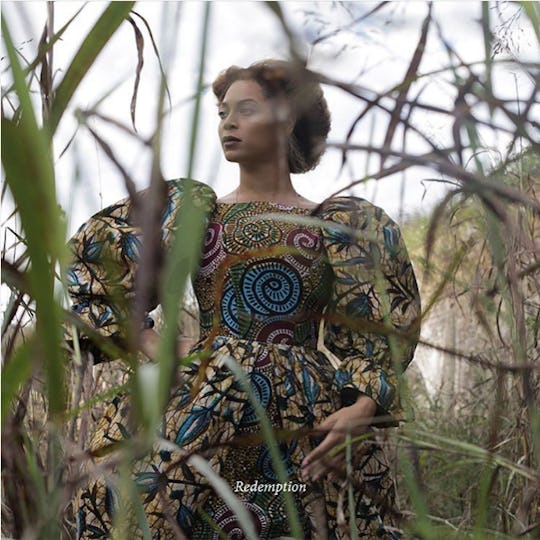 Beyonce's "All Night" Video Features Her Pregnancy, Blue Ivy, & A Lot Of Love
Beyoncé's voice gives listeners chills in her new music video "All Night" from her visual album, Lemonade. The "Sorry" singer's voice is calm, and soothing as she introduces her song. Beyoncé's "All Night" video features her pregnancy, Blue Ivy, and happy moments with hubby, Jay Z. The two are pictured as a united team with gestures like putting sunglasses on together. A sweet moment of Jay Z being fed wedding cake by his beautiful bride is also shared with fans.
More private moments are shown, which, let's be honest, anyone apart of the Hive will want to see. "All Night" reveals private smartphone video footage of pregnant Beyoncé that she captured herself. And towards the end of the video, Beyoncé's daughter, Blue Ivy, is seen chased on a football field by her doting father. Through the clips Beyoncé chose, you can feel the love she has for her husband, and that she believes he is a terrific father, despite any rumors the couple has encountered in the past.
The introductory words help set the stage for the images that follow. Lemonade has a lot to do with infidelity, healing, and forgiveness. And this music video marks the beginning of that healing process.
"With every tear came redemption and my torturers became my remedy. So we're gonna heal. We're gonna start again. You've brought the orchestra, synchronized swimmers. You're the magician. Pull me back together again, the way you cut me in half. Make the woman in doubt disappear."
The song is slow, as if to match the pace of Beyoncé 's recovering wounds. "I've seen your scars and kissed your crimes," Beyoncé presumably directs towards Jay Z. With time, the "Hold Up" artist wants to make efforts to trust the man she fell in love with all those years ago. "Give you some time to prove that I can trust you again," Queen Bey sings as a video of them getting their wedding finger tattoos flash across the screen.
The video itself begins with the now famous "recipe" for Beyoncé's lemonade, along with a video of Hattie, Jay Z's grandmother. It is powerful, important, and this video's release is very much welcomed.